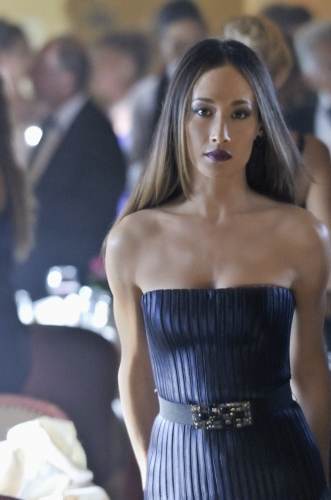 In an effort to keep you up to date on all facts about Nikita's second season, we're putting together a handy collection of episodic spoilers for you, as well as linking to photos, sneak peeks and trailers. This is a one-stop shop for all of your Nikita season 2 needs. As episodes air and new spoilers become available, this page will be updated, so make sure to bookmark it and keep checking back.
Episode 2.02 "Falling Ash" (September 30): Devon Sawa will be making a return guest appearance in this episode as Owen. Nikita and Michael will be looking into an old Division program called P9 that appears to be operational again. Owen is also on the trail of P9 because its mastermind, Dr. Joseph Mars (guest star John Ralston), is the creator of the regimen Owen became addicted to and he hopes Dr. Mars can wean him off the drugs. Michael, of course, doesn't trust Owen, but Nikita thinks they should team up for the time being. Back in Division, a trapped Percy demands a visit from Alex.
Read an interview with Devon Sawa for episode 2.02, including a sneak peek and episode preview.
Episode 2.03 "Knightfall" (October 7): In this episode, Birkoff contacts Nikita and Michael to tell them about a black box file. Apparently a terrorist named Ramon (guest star Simon Kassianides), who has been bragging about some political assassinations, is now working for Division. Nikita is very upset about this because, as it turns out, she was the one who captured Ramon many years ago and handed him to Percy. Meanwhile, we're introduced to a man named Anton Kochenko (guest star Paul Braunstein), a man who used to work for Alex's father. Amanda convinces Alex to kill Anton and wants Ramon to take credit for the kill. But Nikita interrupts Amanda's plan and so Amanda takes what Nikita "loves most". Could that mean Michael?
View photos from episode 2.03.
Episode 2.04 "Partners" (October 14): We'll be learning more about Nikita's past in this episode when her old Division partner, Kelly (guest star Katheryn Winnick), escapes from a Turkish prison. Nikita is stunned to learn that Kelly is still alive because she always thought Kelly died years ago during the mission when Nikita escaped from Division. She's also felt guilty about Kelly's "death" since then. Nikita is convinced that Amanda will go after Kelly, so she and Michael travel to Turkey to help her out. But Amanda isn't about to let Nikita succeed. She sends Alex and Roan (guest star Rob Stewart) to keep the women from reuniting.
Episode 2.05 "Looking Glass" (October 21): Michael gets a blast from the past when he learns that a woman he once seduced while on assignment – Cassanda (guest star Helena Mattsson) – is in danger. He feels guilty about what happened between them and wants to help her now. Sean starts to get suspicious about Division's real motives when Amanda manipulates Alex into helping her with a mission.