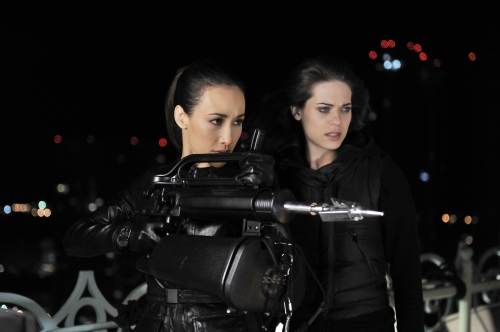 Nikita was my favorite new CW pilot last summer, and I have to say that the show has not disappointed me all season. In fact, it's been full of twists and turns that other shows would draw out for several seasons, nevermind only 12 or so episodes.
Tonight, the first season of Nikita comes to an end with an episode entitled "Pandora". According to The CW's episode synopsis: "In an explosive season finale, Percy makes a move to take over the CIA, Alex goes rogue, and Michael gets trapped inside Division making him unable to help Nikita, who may have to pay with her life for helping Alex".
That doesn't even begin to describe the season finale of Nikita. I was lucky enough to get my hands on a screener and want to share more about the episode with you, which I thoroughly enjoyed. I'm not going to tell you how it ends (seriously, I'm not, no matter how many times you ask), but here's five reasons you shouldn't miss the finale tonight.
(1) Meet Oversight: The shadowy organization that runs Division makes its first appearance tonight and we start learning more about the people who helped put Percy in the position he's currently in, as well as their thoughts on his trouble-making black boxes. The introduction of Oversight broadens the scope of the show and puts Division into a context we haven't previously seen.
(2) Percy Is Full of Surprises: As the synopsis says, Percy tries to take over the CIA (and this is where Oversight comes in). Percy has grander ambitions than just running his shadowy group of assassins. But Percy's actions tonight will surprise you. For those of you who thought the man might have simply sat by while Nikita and Alex systematically dismantled all that he built, you'll be in for a shock. Percy is a hell of a lot smarter than we may have given him credit for.
(3) A Balanced Cast: Many previous episodes of Nikita have had a heavy focus on Nikita, Alex and Michael. That's fine, of course. I consider them the three main stars of the show, so there's nothing wrong with that. But Nikita has a very talented supporting cast – particularly with Melinda Clarke as Amanda. This episode gives absolutely everyone in the cast – including guest stars like Ryan and Malcolm – the time and attention they deserve. But the end of the episode, I felt like everyone had a part to play and they all got equal screen time. Moreover, all of their roles made sense within the broader story. No one feels like they're appearing just for the sake of it.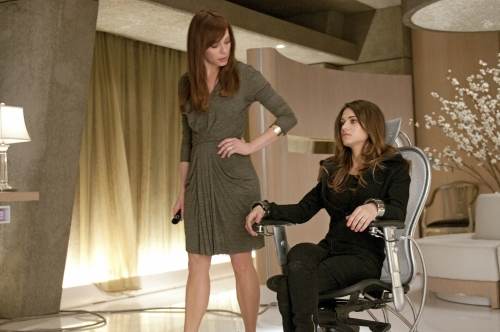 (4) Shifting Alliances – Who Can We Trust?: Like I said before, Nikita is a show that is not afraid to shock us. The deaths of people like Thom and Jaden were jarring because the show was killing off some very important supporting cast members. This show also doesn't mind the characters shifting their alliances, like Michael joining up with Nikita and Alex. Tonight's season finale has a few twists and turns that you will most definitely enjoy, including some characters who defy the wishes of those closest to them.
(5) Season 2 Set Up: Word on the street is that Nikita has a very good chance of being renewed for a second season. After seeing tonight's finale, you'll definitely want it to be renewed. I can tell you that there's no cliffhanger – per se. This season's storyline do get wrapped up. For fans who have been wondering, yes, there are resolutions to some main issues that arose in the previous episode. But the writers carefully set up the potential storylines for season 2…storylines that you will want to see explored, because it opens up a whole new level of possibilities we haven't yet seen on Nikita.
In the end, this was a perfectly perfect season finale. I felt like everything that happened was true to the history of the show and the characters' personalities, but I was happily surprised by a few twists, and I loved the action. I'm also incredibly interested in what could happen if the show is renewed (which we should know one way or the other at the CW's upfront presentation next week).
The only thing missing? Devon Sawa's Owen. I'd like to officially start the campaign to get him back for season 2 if the show is renewed. He's kick ass.
You're going to love tonight's season finale of Nikita. Below is a trailer and sneak peek for it. Don't miss it!
clarissa @ tvovermind.com
twitter.com/clarissa373
twitter.com/tvovermind