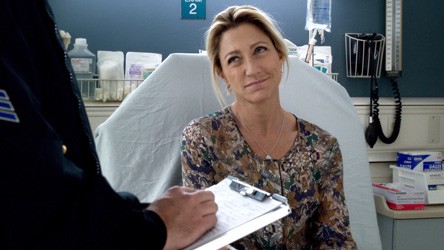 After over a decade of being an addict, Jackie finally decided to get clean last season on Nurse Jackie. It was something long in the making and not without struggle, since this wasn't the first time she mentioned sobriety; however, it was the first time she took it seriously and made the effort to change her life. The new perspective, complete with emotions Jackie wasn't used to feeling, took her a while to get used to, but eventually, she kind of got the hang of it. Does she have enough of a hang of it to withstand a bout of instability without letting it impact her sobriety?
This season on Nurse Jackie, Jackie will be battling to stay clean amid a series of major changes in her life. For instance, now that she and Kevin are divorced, she'll be getting back into the dating world, which is a source of anxiety for someone as closed off as she is. Jackie may have carried on an affair with Eddie, but she wasn't sober at the time and her main motivation in being with him was his access to prescription drugs. Now, though, she has to put herself out there when a police officer (guest star Adam Ferrara) flirts with her after attending to a traffic accident she was in. As irritable and grumpy as she may come off while she's on the floor, Jackie wants (and needs) positive, supportive people in her life right now and maybe, just maybe, this guy will be a good influence on her.
Elsewhere this season on Nurse Jackie, two new doctors (guest stars Morris Chestnut and Betty Gilpin) join the hospital, while Akalitus and Eddie get their jobs back and Jackie sees Cruz again, this time at his apartment. What exactly does he want from her?
The fifth season of Nurse Jackie premieres Sunday, April 14th at 9:00 on Showtime. You can check out a behind the scenes look at the season here, as well as season five teasers here.
How will Jackie handle getting back into the dating world? Will the personnel changes at the hospital make the trauma unit an even more tense place to be? Can Jackie stay clean the entire season or are we looking at an impending relapse?
http://www.youtube.com/watch?v=s5de9rLlVUk