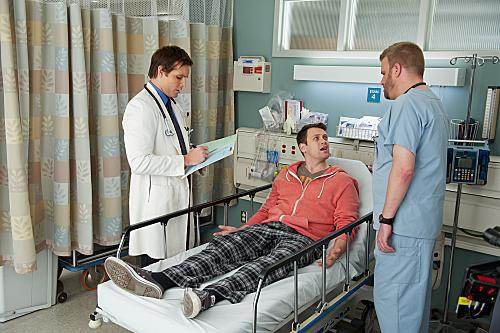 It had to get out sooner or later.
Word that Nurse Jackie Peyton, the nurse to end all nurses, had a problem with prescription pills and took two weeks off to go to rehab. It was only a matter of time, considering the close quarters that the trauma unit shares, but it has to sting that much more for Jackie to be uncovered. She's grown accustomed to doing whatever she wants whenever she wants and not having to explain herself, so to be confronted about her addiction by Zoey of all people must be tough to deal with. Obviously, Zoey's not indignant or judgmental about rehab, but the fact that even she knows now means that Jackie's accountability has to go even higher. The chance of her falling into the abyss of addiction lessens the more people know about it; Nurse Jackie may be a great liar, but she can't fool the entire floor now that they've been clued in on what's been going on with their head nurse.
Elsewhere on Nurse Jackie, Jackie makes a friend in one of her patients. She has always been a good nurse, drug problem or no drug problem, but we've not really had someone getting behind the wall that she puts up while on the job. Guest star Rosie Perez, playing (very) pregnant, does, though, getting Jackie to laugh for perhaps the first time all season. It's nice to see Jackie take a breath for once, as she tends to be very rigid and preoccupied, but this is the second time she's been faced with the temptation of medication. After turning down the patches that Kelly get her, Jackie now has a bottle of vicodin in her possession; the old Jackie would have hurried home and gotten her fix immediately, but the new Jackie seems ready to become sober. Her life may be in shambles right now, but it's due to her addiction and if Jackie can successfully keep turning away temptation, perhaps everything else can start getting better.
Nurse Jackie airs tonight at 9:00 on Showtime.