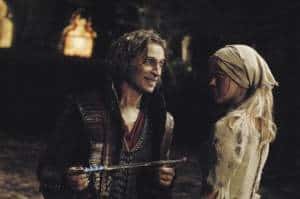 Thus far, Once Upon a Time has introduced us to Snow White, an Evil Queen, a charming Prince, the seven dwarves, Jiminy Cricket and a plethora of other storybook characters, including Red Riding Hood. In the November 13 episode, Once Upon a Time delivers up the classic story of Cinderella.
The episode, entitled "The Price of Gold", has all the classic elements: a dirty and disheveled Cinderella who is forced to remain behind cleaning the house while her stepmother and horrible stepsisters head to the ball. Then her fairy godmother drops in to offer up some help. Of course, there's a twist. The fairy godmother doesn't last very long, unfortunately, before Rumpelstiltskin drops in and dispatches her. He warns Cinderella that all magic comes with a price, but she's desperate to escape her terrible life. He tricks her into owing him a favor, which just so happens to be the classic Rumpelstiltskin M.O.: he wants her child, although he certainly doesn't make that clear at the time.
In Storybrooke, Maine, Emma and Henry come across a young woman who just so happens to be Cinderella in the fairytale world. She's pregnant, but is afraid that Mr. Gold will take her baby. Emma promises to help her keep her baby.
Update: Watch three more sneak peeks for tonight's episode of Once Upon a Time here.
You can watch the first 10 minutes of the November 13 episode of Once Upon a Time below. (Note: if international readers are unable to view the embedded video below, try watching the clip here). You can also view photos for the episode here.