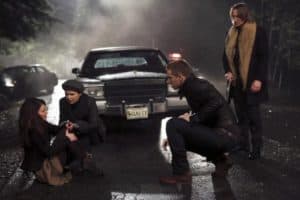 Mr. Gold came up with a potion that allowed him to cross Storybrooke's border without losing his memory in last week's Once Upon a Time.  He wanted to leave town to search for Bae (with Belle's blessing), but Captain Hook announced his arrival in town and the feud between the two men was reignited.
While Mr. Gold was willing to stop beating on Hook at Belle's request, the pirate got the ultimate revenge on his enemy when he shot Belle, pushing her over the border without the potion and erasing her memories.  Now the girl is frightened and doesn't remember who she – or anyone else – in town is.  How can Mr. Gold reconnect with her?
But Belle isn't the only crisis currently happening in Storybrooke.  A stranger also crashed into town and may or may not have seen Mr. Gold about to unleash magic on Hook, thereby threatening the town and everyone in it.  This leads the townspeople to debate whether  Dr. Whale should perform surgery on him or let him die (watch a preview).
Speaking of Dr. Whale, we'll get more of Victor Frankenstein's backstory when we see Victor trying to raise the dead to prove to his father that he can do it.
Click the link below to browse through photos for the January 20th episode of Once Upon a Time and watch a sneak peek featuring Regina and Cora here.