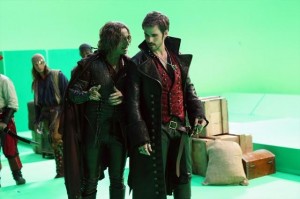 Captain Hook is coming to Once Upon a Time in late October and the actor (Colin O'Donoghue) has already signed on as a series regular, so we're going to bet that he'll be a big hit with the fans.  In the episode, titled "the Crocodile", Hook appears in the past fairytale land when "Rumplestiltskin attempts to save his wife, Milah, from being kidnapped by a band of cutthroat pirates."
Yesterday we published photos from the Storybrooke side of this episode.  ABC hasn't released any official photos of Captain Hook, but they have released "behind the scenes" photos, which show O'Donoghue with his pirates, interacting with Rumple, and filming in a large green screen environment.  Given the fact that O'Donoghue is a series regular, we anticipate it won't be long before we see him pop up in Storybrooke.
Use the arrows above to browse through photos for the October 21 episode of Once Upon a Time.