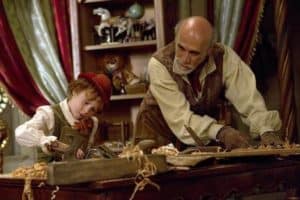 There are a lot of wildly conflicting theories about the true identity of August on Once Upon a Time. In the beginning, I heard theories that he is actually a grown-up version of Henry, which, to be honest, didn't make much sense to be at the time, since Henry never existed in the fairytale world. Another theory is that he's actually Rumplestiltskin's son, and this theory may be proven/disproved in the upcoming April 22 episode, which revolves around Rumpel and Mr. Gold (view photos).
Whatever August's true identity (which I sincerely hope we learn before the end of the first season of Once Upon a Time), he is clearly important to the story. In fact, in the upcoming April 29 episode, titled "The Stranger", August wants to enlighten Emma about this whole Storybrooke situation and takes her on a journey to figure out a way to beat Regina and maybe even take back custody of Henry.
Meanwhile, Mary Margaret has been cleared of any murder charges once it was revealed that Kathryn isn't actually dead, and will be returning to work in the April 29 episode. But Regina is still determined to make sure she doesn't get her happily ever after, so she sets out to seduce David. I personally don't think Mary Margaret and David 'shippers have much to worry about. Just because Regina tries to seduce David, doesn't mean he'll fall for her "charms".
Finally, the fairytale story in the episode will focus on Geppetto. We'll be revisiting the period right before the Queen's curse took effect and Geppetto worked on the special wardrobe to bring Emma to our world. This time, a previously unknown piece of information will be revealed: he agreed to help Charming and Snow's daughter with a proviso that could also save his son.
Updated: View photos for the April 29th episode.
Once Upon a Time airs on Sunday nights at 8:00 p.m ET/PT on ABC.
For more coverage of the show, including reviews, spoilers and sneak peeks, browse and bookmark our Once Upon a Time page. You can also watch the latest episodes, courtesy of Hulu, there!