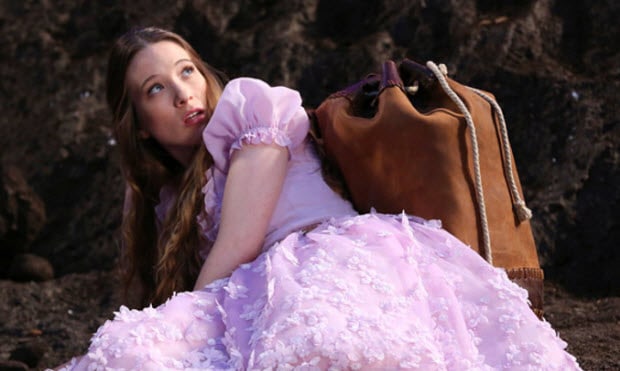 When Once Upon a Time in Wonderland was first announced, I wasn't exactly thrilled because I felt it was too early for the show to even consider a spin-off.
It also didn't make sense for them to call it a spin-off. My rule for a show to be a spin-off is if it's based on a character that has already been established in the original TV series; like how Angel was for Buffy the Vampire Slayer, Torchwood for Doctor Who and other examples.
But seeing the trailer that was released back in May did raise my interest for it and after seeing the pilot; I was wrong to be so against it in the beginning. The Once treatment of Alice in Wonderland turned out to be better than I expected. They [the creators of Once] have found a way to take these beloved fairy tale characters and make them more serious.
Sophie Lowe is most likely going to be one of the breakout stars this season as she has taken this character to a place we haven't seen before. Who knew that we would live in a time where we could say that Alice is kicking butt? It's a more psychological look at the character which I think will be a strong factor for Wonderland.
The favorite character – aside from Alice – is definitely Michael Socha's Knave of Hearts, as he's a wise-cracking, strong character to follow. His dynamic with Lowe was entertaining to watch and something I really want to see more of.
Wonderland has two villains and the one that is currently the weakest link is Emma Rigby's Red Queen. I have nothing against the actress but I would have preferred if they had cast somebody a bit older because the Alice/Red Queen dynamic currently feels like a teenage fight because of her age. Maybe it will get better in the next couple of episodes but as of now, I don't find this character imposing at all.
The other villain is one of my favorite Disney villains of all time, Jafar who is played by Naveen Andrews. He was a great casting as he truly embodied Jafar from the Aladdin movies and the child in me was thrilled to see his Cobra Staff.
It will be interesting to see how this villain fits into the world of Alice in Wonderland. What we also got to see was the flying carpet which makes me wonder if Aladdin could appear at some point in the series. I personally hope he does because he's a great character and I would love to see how they would adapt him into the Once universe.
Peter Gadiot's Cyrus was intriguing to watch and he did have great chemistry with Lowe's Alice. I was worried at first that he wouldn't get much screen time, but he got enough for me to learn about him. I'm wondering though if he is supposed to be the same Genie as the one that Aladdin finds since Jafar captured him. There are a lot of mysteries with almost all the characters on the show.
While I don't have much to say about the White Rabbit (John Lithgow); he was done right and the CGI for him was good. We see a lot of other recognizable characters from the Alice in Wonderland mythos and it will be interesting to learn how they will be expanded from the original Alice story.
Something I have always enjoyed with Once is the way that they create these fairy tale worlds like Neverland (currently featured in the third season of Once), Wonderland and the Enchanted Forest. While there were certain shots of Wonderland that didn't look convincing enough; for the majority of the episode, it looked beautiful and fascinating in live-action.
"Down the Rabbit Hole" was overall a great pilot, and it really succeeded in standing on its own while it does exist in the same universe as Once. I can't to see more of this show, what characters we will get to see and what the showrunners have in store for us in expanding the Alice from what we originally saw in the classic Disney movie.
Once Upon a Time in Wonderland airs on Thursdays nights, 8.00 PM on ABC.