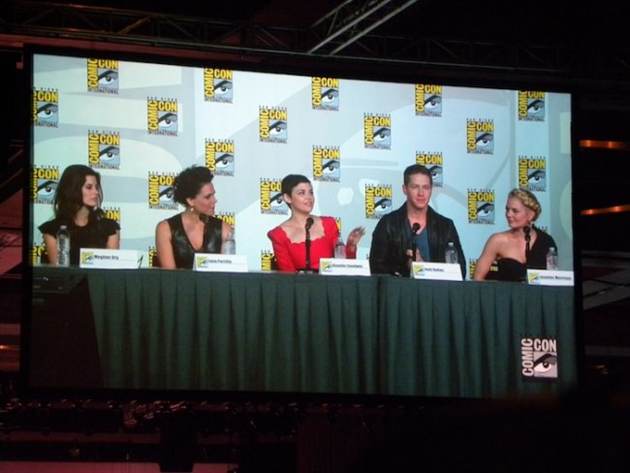 Once Upon a Time is moving up in the world. At this year's Comic-Con, the show's stars and executive producers spoke to a full house of fans in Ballroom 20 of the San Diego Convention Center. Ginnifer Goodwin (Snow White), Josh Dallas (Prince Charming), Jennifer Morrison (Emma), Lana Parrilla (Evil Queen), Meghan Ory (Red Riding Hood), and Emilie de Ravin (Belle) joined executive producers Adam Horowitz and Edward Kitsis to tease what's in store for next season.
New Characters for Season 2. The title cards at the beginning of each episode give hints as to characters that will appear in the episode (have you noticed that?). As a preview, three new cards for season 2 were shown to the audience. We already knew that Mulan and Sleeping Beauty/Aurora will be appearing, as the roles have already been cast, but a third title card revealed that Jack and the Beanstalk would also be making an appearance. And while he's not a new character, the producers revealed we will also learn Dr. Whale's fairytale identity. In a surprise reveal at the end of the panel, the audience also learned that Captain Hook (and, presumably, Peter Pan) would be appearing next season! Want to watch these videos at home? Check them out here.
Unsolved Mysteries. In season 2 we will definitely find out the identity of Henry's father. Jennifer said that she thinks fans will be very happy to see that storyline played out. Meanwhile, anyone who is still curious about Rumple's son, Bae, should know that what happened to him is a dangling storyline from season 1 that the producers do want to deal with next year.
The Fairytale World Meets Storybrooke. Edward hinted that they 'don't know if there's anything to go back to [from the fairytale world]'. After all, the last thing we saw was the curse ripping through that world. On a similar note, Adam said that 'we're going to explore '˜what does it mean that they've spent all these cursed years as these characters?'[in Storybrooke]. We're not deleting those lives entirely.'In addition, the show will explore why certain objects came over from the fairytale world.
The Format. Edward hinted that "the show this year won't change from the one you loved last year. Still going to go back and forth and meet new people along the way."
Once Upon a Time will air on Sunday nights at 8:00 p.m. ET/PT on ABC. Stay tuned for more spoilers from the press room this afternoon!