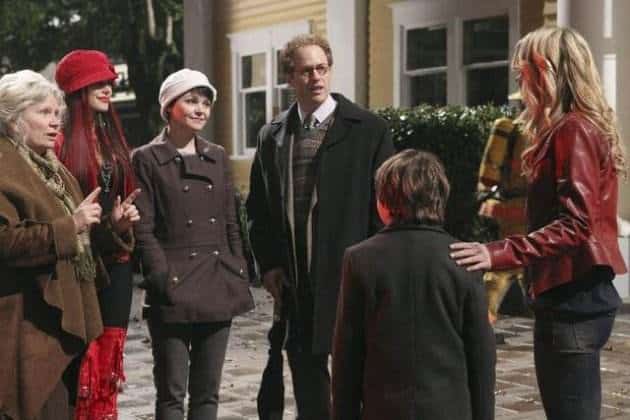 Once Upon a Time may be on hiatus, but news about the January return is pouring in. Earlier today we posted a mild spoiler article about the January 8 episode of the show, titled "Desperate Souls". Now ABC has released photos for the episode which – pun not intended – present us with a clearer picture of what will be happening in episode 8.
Once Upon a Time fans watched Sheriff Graham die in the midseason finale earlier this month. In fact, he was killed by Regina (albeit in a secretive manner) because he was remembering his fairytale past as the Huntsman and also because he rejected her and chose Emma instead. Feeling slighted and concerned about the state of her curse, Regina crushed the heart she had taken from the Huntsman after he failed to kill Snow White, thus killing Graham in Storybrooke.
Storybrooke has lost one of its own, but now an important town position is ripe for the taking. Naturally, Emma wants to honor Graham's memory by becoming sheriff herself, but Regina will do anything to stop that from happening. But Emma has every right to run for the public office position and it looks like Regina's good friend Sidney will be running against our very own Emma. Curiously, Emma will find herself with an unexpected ally – Mr. Gold – who seems eager to beat Regina at her own game. Emma and Regina will also find themselves in the midst of danger when they're caught in an explosion.
Meanwhile, we'll be getting some important backstory on Rumpelstiltskin in the fairytale world in this episode of Once Upon a Time. Backstory that reveals that Rumpel had a son and was desperate to "help his son avert the horrors of a meaningless war" by finding the ultimate power source. You know what they say – power corrupts and absolute power…..
Well, you get the point. We may be getting a very important clue as to why Rumpelstiltskin is the man that he is in the fairytale world.
Updated: Watch the first 8 minutes of this episode.