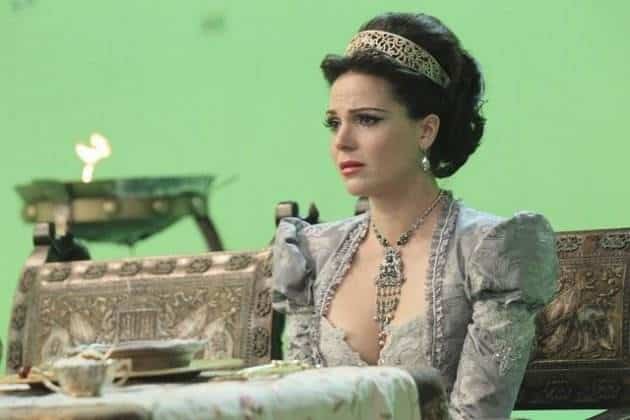 Want a first look at one of the royal families on Once Upon a Time? ABC hasn't released any official photos for the upcoming 11th episode, which is set to air on January 29 and is titled "Fruit of the Poisonous Tree", but they have offered up a behind the scenes look.
In the episode, we'll get our first glimpse at Snow White's father, King Leopold. We know that Leopold was married to the Queen. Lana Parrilla, who plays the Queen, has hinted that Snow and her father had a very close relationship, while we've gotten hints that the Queen's relationship with Leopold may not have been the best. At the very least, the Queen seems jealous of the friendship between her husband and stepdaughter. And she doesn't look very happy in the family dinner taking place in these photographs.
Once Upon a Time will give us real insight into King Leopold when he finds a magic lamp and is granted three wishes by the Genie inside. Naturally, this particular tale will teach us to "be careful what we wish for", a lesson that Leopold will learn well.
And check out the amazing amount of green screen special effects that go into creating the castles in the show. Aside from the thrones, tables and chairs, all of the floors and walls will eventually be computer generated.
A new episode of Once Upon a Time will air on January 15 at 8:00 p.m. ET on ABC and will tell the tale of Hansel and Gretel. Watch a preview here.