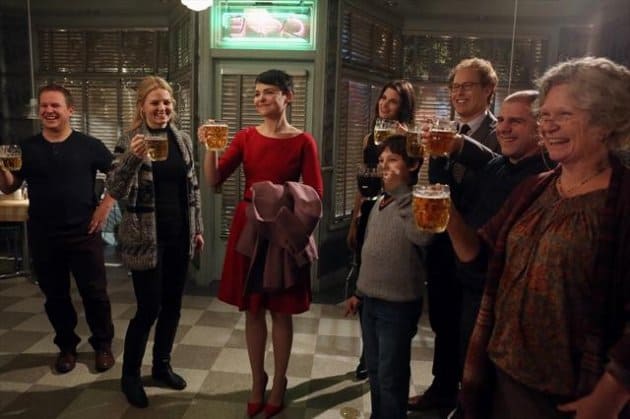 The winter finale of Once Upon a Time brought Emma and Mary Margaret back from the fairytale land to Storybrooke and resulted in a very happy reunion between David and Mary Margaret.  Now the entire Charming family is back together once again and a happy ending will follow, right?  Wrong.  In the final moments of the winter finale a ship appeared on the horizon and on that ship were Cora and Captain Hook.  The villainous pair will appear in the January return of the show, titled "The Cricket Game".
The episode appears to begin on a joyful note, with some of the townspeople coming together at Granny's to celebrate the return of Emma and Mary Margaret.  But all too soon trouble appears.  "Regina is accused of murdering one of the town's most beloved fairytale characters — but only Emma senses that she may be innocent. Meanwhile, back in the fairytale land that was, after capturing the Evil Queen, Snow White and Prince Charming set about planning her public execution in order to rid the land of her murderous tyranny," ABC says.
Click the link below to view photos for the January 6th return of Once Upon a Time.  You can also watch a preview for the new episodes here.
Keep an eye on our Once Upon a Time page for sneak peeks, spoilers, photos and more.