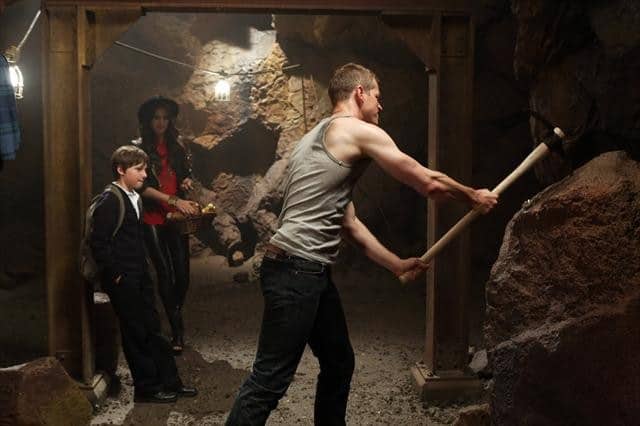 Photos for the October 21 episode of Once Upon a Time have been served up in small batches by the network.  Previously we posted photos that centered on Belle in Storybrooke (where she may/may not be getting kidnapped by Captain Hook's sidekick Smee) and behind the scenes photos of Hook meeting up with a magical Rumplestiltskin.  Now ABC has finally released what may be the last batch of photos.
These pictures show David in Storybrooke.  In the season 2 premiere the Blue Fairy told everyone that she couldn't make magic work without fairy dust.  And when one of the seven dwarves lost his memory after crossing the town's border, the rest of the dwarves decided to head into the mine to get the dust so they could bring back his memories.  David decides to head to the mines to find fairy dust as well….perhaps in hopes that it could help save Snow and Emma?
The fairytale land photos, meanwhile, give us our first glimpse at Rumplestiltskin's wife, who hasn't been seen on the show yet.  While delving into his backstory in this episode, we'll see Rumple trying to save his wife, Milah, from Hook and his pirates.
Keep an eye on our Once Upon a Time page for previews, spoilers, sneak peeks and reviews.