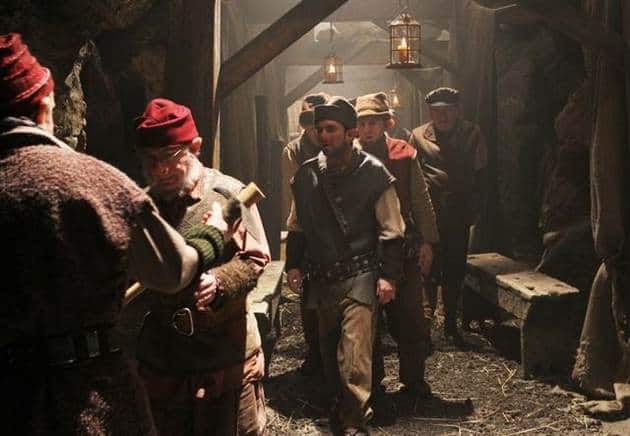 In this week's Once Upon a Time, Mary Margaret and David's secret was exposed. Mary Margaret encouraged David to be honest when Kathryn suggested they move to Boston so she could attend law school. And while he told Kathryn that he just didn't feel a connection with her and couldn't leave town with her, he failed to tell her about Mary Margaret. When Kathryn ran to Regina for comfort, her "friend" told her the truth about the affair. Kathryn confronted Mary Margaret at school and the town quickly heard about the affair, talking about Mary Margaret behind her back. Once she finally met up with David again, she told him their love was too destructive for them to be together. And on Kathryn's way out of town to start a new life, she mysteriously disappeared!
Meanwhile, in the fairytale world, Charming once again took center stage in this week's Once Upon a Time. Abigail revealed that she knew he didn't want to marry her. In fact, she told him that she too was in love with another person: a knight named Frederick who had been turned into gold when he tried to save her father, King Midas. Charming agreed to help and faced a Siren, successfully defeating her. Frederick was revived and Charming set off to find Snow White. For more about the episode, read our detailed recap & review.
Once Upon a Time is currently on hiatus for a week, but new episodes will resume on March 4. In the episode, titled "Dreamy", Amy Acker guest stars. Leroy and Mary Margaret team up to help the town's nuns to sell their candles during the annual Miner's Day festival. Plus, with Kathryn now missing, everyone in Storybrooke is a suspect in her disappearance and it seems like Mary Margaret herself might be the biggest target. Acker also guest stars as a nun named Astrid in Storybrooke who interacts with Leroy. In the fairytale world, Acker plays a fairy named Nova who falls in love with Grumpy.
Watch a trailer below for the March 4 episode of Once Upon a Time, airing at 8:00 p.m. EST on ABC. You can also browse through photos for the episode here.