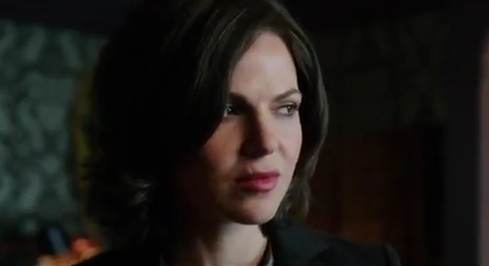 Once Upon a Time revealed an important time in Snow White and the Queen's history in this week's episode. We learned that the Queen used to be known as Regina and lived a comfortable life with her parents in the country. But her mother had loftier ambitions and help manipulate the situation so that Regina saved a young Snow's life from a runaway horse and her father (King Leopold) proposed marriage. Regina's mother, Cora, forced her to accept the proposal, which upset Regina because she was in love with Daniel, the family's stable boy. When Snow found them kissing, Regina made her promise not to tell anyone that she planned to run away with Daniel.
Unfortunately, Cora tricked Snow into telling her the truth and Cora confronted her daughter before she was about to run away. When Regina refused to back down, Cora killed Daniel. As a result of Snow's confession, Regina has hated her for years, and set up Mary Margaret to take the fall for Kathryn's murder.
In Storybrooke, August encouraged Emma to take another look at Kathryn's case after Mary Margaret. She managed to find another clue that pointed to Regina, but she was able to destroy the evidence. In the end, Emma realized that Sidney had been bugging the police station and that she had been trusting all the wrong people.
Once Upon a Time is currently on hiatus until April 22. Watch a preview for the return below.
Updated: View photos for the April 22 episode.
For more of our coverage of the show, browse and bookmark our Once Upon a Time page.