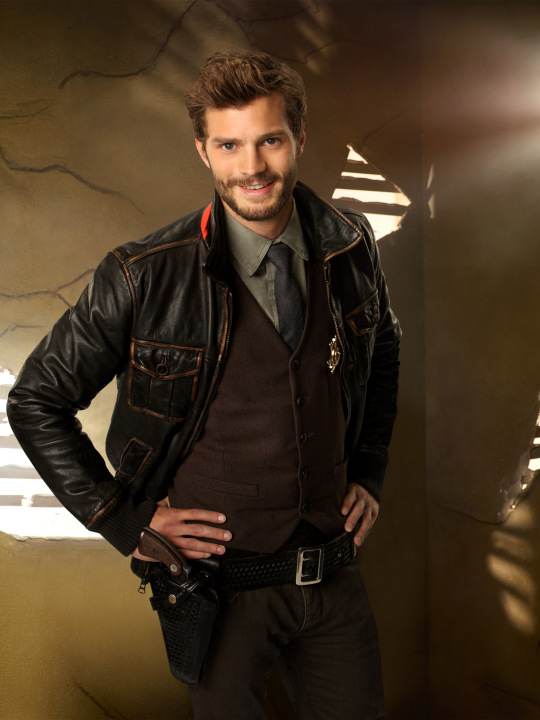 This week's Once Upon a Time delivered up quite the surprise. In the fairytale world, Prince Charming's father appeared and his kingdom was in desperate need of gold. King George turned to King Midas for help. In exchange for gifting George's kingdom with riches, Midas asked that George's son, Prince James, slay a dragon that was terrorizing his kingdom.
But James was actually killed before he could go on the quest. Rupelstiltskin appeared and we learned that he brought James to King George, as he and his wife couldn't conceive a child. While Rumpel said there was no way to bring James back to life, he revealed that James actually had a twin brother. The brother was brought to George so that he could pretend to be Prince James. While he was unskilled in being a champion like his brother, he was able to slay the dragon through ingenuity.
But it turns out that Once Upon a Time's King Midas wanted more than a dragonslayer. He actually wanted a husband for his daughter, Abigail (who is Kathryn's fairytale counterpart). George threatened his son's twin brother into accepting the proposal and the man assumed his brother's identity forever.
Meanwhile, in Storybrooke, David finally returned home and continued to insist to Mary Margaret that he didn't choose Kathryn and his life. He chose to leave his wife and asked Mary Margaret to meet him that night. Emma told Mary Margaret that she should choose to meet David if he's already left his wife. Regina clearly doesn't want the two to be together and warned Mary Margaret to stay away from David, but she didn't heed the warning.
On the way to meeting Mary Margaret, David ran into Regina, who gave him the wrong directions. He ended up in Mr. Gold's pawn shop where he came across a windmill Kathryn had told him about and he remembered all of his fake Storybrooke memories. He did meet with Mary Margaret and admitted he does have feelings for her, but he also said that he remembered loving Kathryn and he was choosing to return to his wife. Read our full recap & review for episode 6 here.
A new episode of Once Upon a Time will be airing next weekend on December 11. It seems like the episode will focus on Sheriff Graham, who may start remembering his fairytale life. The Evil Queen's feud with Snow White will be explored as she searches for an assassin to kill her.
Updated: Watch six sneak peeks for the December 11 Once Upon a Time.
Watch a trailer for the December 11 episode of Once Upon a Time below.