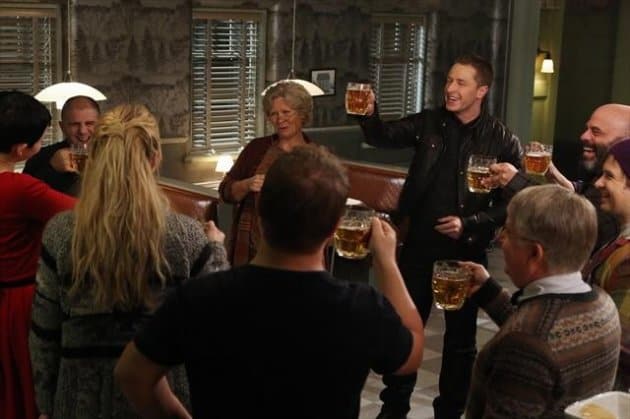 It looks like there's some very interesting things coming for the January return of Once Upon a Time.  The winter finale reunited the Charming family but ended with the arrival of Cora and Hook in Storybrooke (unknown to everyone but the audience at this point).  Now an extended preview for the show's return gives us our first peek at the magical – and confrontational – reunion between Cora and Regina.  And it looks like Regina is surrounded by enemies on all sides, because her war with Emma starts up again when the Queen makes it clear that she won't be letting Emma take her son away.
But perhaps the biggest surprise of the preview is the fact that the curse that keeps the fairytale characters trapped in Storybrooke (lest they lose their true memories) will be broken.  Will they all leave the town or will they find a way to make it back home?  Grumpy asks the big question: when will they make it back to the fairytale world?  Do you think season 2 might end with all of the characters returning home in order to rebuild their land?
Watch a preview below for Once Upon a Time, which returns on January 6 at 8:00 p.m. ET/PT on ABC.  You can also browse through photos for the episode here.
Visit our Once Upon a Time page for more spoilers, previews, sneak peeks and more.
http://youtu.be/F9yDNMKy1Gc