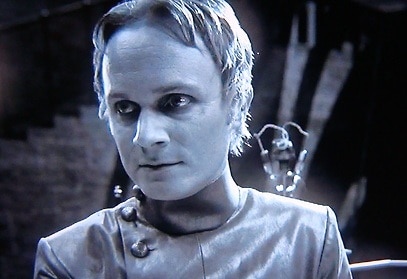 Hook and Mr. Gold came face-to-face in this week's Once Upon a Time.  After interrogating Archie about Gold's weaknesses, Hook went after Belle.  Meanwhile, Mr. Gold was preparing to leave Storybrooke after concocting a potion that would allow him to cross the town's borders without losing his memory.  But he dropped everything to save Belle.  Unfortunately, Hook managed to steal Bae's cloak, which Mr. Gold needed to find his son.
Belle proved herself very crafty and found Hook's hidden ship.  She managed to find Archie and set him free (he later reunited with Emma and Henry) and steal back the cloak.  But Hook cornered her again and Gold arrived just in the nick of time.  Hook baited him into a fight, telling Belle that Gold was a monster, but Belle convinced him to let Hook go and prove that he was a good man.  He warned Hook to leave town (like that's going to happen) and then crossed the border to set off on his journey.  But Hook shot Belle, who fell over the border and immediately lost her memories, not having taken the potion beforehand.  She'll survive, but Hook's punishment is that she will not remember her love for Mr. Gold.  Before Gold could unleash his magic-generated fireball on Hook, a stranger crashed a car over the border.
In the fairytale land that was, Belle decided to go on an adventure to help defeat a creature that was terrorizing a town.  Abandoned by her travel companions, she eventually met up with Mulan and defeated the creature on her own.  Seeing that it was suffering, she threw fairy dust on it (given to her by Dreamy) and actually cured the creature of its curse.  It turns out that the monster was none other than Prince Phillip.  Now he's been introduced to Mulan and the two are setting off to save her village, while Belle got kidnapped by the Queen.
In next week's episode, the stranger who crashed into town catches everyone's attention when he is brought into the hospital.  Dr. Whale is responsible for performing surgery on the stranger (played by Ethan Embry), but a lot of the townspeople are worried that he might have seen Mr. Gold performing magic before the crash, which would threaten to expose them.  They wonder whether leaving him to die would be best for everyone.  Meanwhile, Cora tries to connect with Regina, while Mr. Gold tries to connect with Belle.  And in the land that was, Dr. Frankenstein drives to prove to his father that he can bring back the dead.
Watch a preview below for the January 20th episode of Once Upon a Time airing at 8:00 p.m. ET/PT on ABC.
Keep an eye on our Once Upon a Time page for spoilers, previews, sneak peeks and more!
http://youtu.be/1RkaRkwilpg