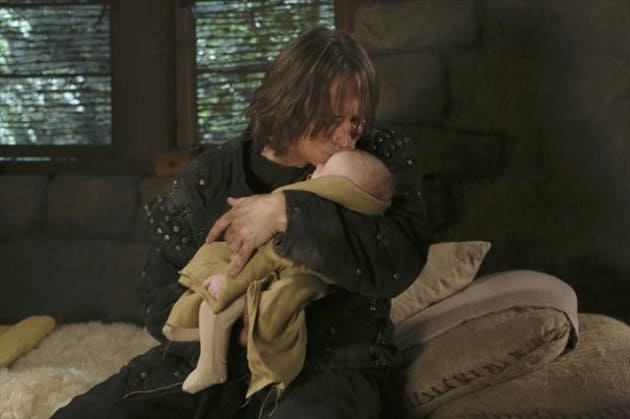 Cora brought the Giant, Anton, to Storybrooke in this week's Once Upon a Time.  After mistaking David for his twin brother, James, Anton wreaked havoc on the town to get vengeance against David, who he thought had betrayed him when he tried to befriend some humans back in the fairytale world.  It turns out that James and his army stormed the Giants' castle to steal the magic beans and treasure, killing all of Anton's brothers. But there's some hope now, because after David saved Anton's life in Storybrooke the Giant revealed that he could grow some magic beans to transport everyone back home.
Meanwhile, Mr. Gold headed out of town with Emma and Henry, but stumbled upon an unforeseen consequence of leaving town: losing his magic when he crossed the border.  For more on the episode, read our full recap.
Next week's Once Upon a Time will find the travel trio searching for Bae in New York City and I'd wager that we've actually met Bae before.  Back in Storybrooke, Regina, Cora and Hook search for one of Mr. Gold's prized possessions that could kill Mr. Gold while he's powerless outside the town's borders.  And in the fairytale land that was, we'll flash back to Rumplestiltskin's time during the Ogre Wars.
Watch a preview below for the February 17 episode of Once Upon a Time on ABC.  You can browse through photos for the episode here.
http://youtu.be/KMRIAZB330c