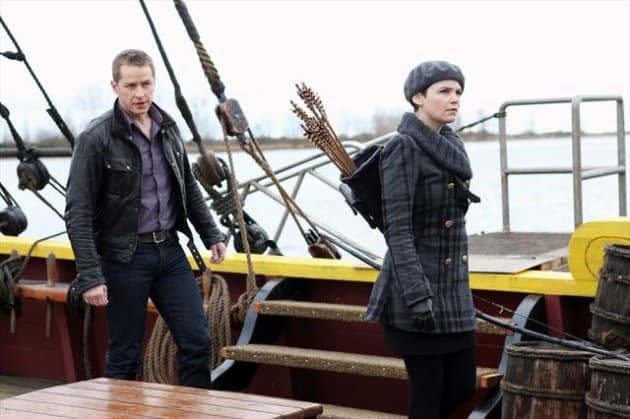 Mr. Gold found his son, Bae (a.k.a. Neal) in this week's Once Upon a Time.  After arriving in Manhattan, Gold ordered Emma to chase after his son and get him to talk to him, but Emma was in for a shock when she realized that Bae was none other than her former ex-boyfriend.  Neal has made it clear that he doesn't want anything to do with his father, breaking Mr. Gold's heart in the process.  And both Henry and Neal learned about their own familial relationship.  For more on the episode, read our full recap.
Once Upon a Time is on hiatus next week for the Oscars, but when the show returns Mary Margaret will declare war against Cora and is determined not to let Cora or Regina win.  When she learns that the two women are going after Rumple's dagger, she'll do everything in her power to make sure they don't get it.  Meanwhile, Hook manages to track Gold down in Manhattan and stabs him, leaving Neal desperate to find a way to save his father despite his lingering hatred towards him.
Watch a preview below for the March 3 episode of Once Upon a Time on ABC.
Visit our Once Upon a Time page for spoilers, photos, sneak peeks, recaps and more.
http://youtu.be/OopNUMgew-g