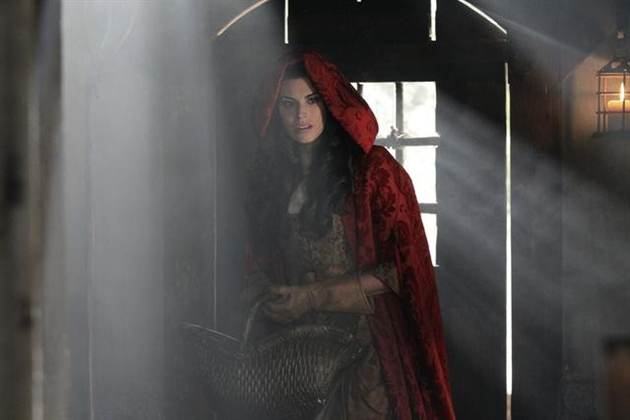 Once Upon a Time has delivered up several unexpected twists in the fairytale world, including making Rumplestiltskin the "Beast". But this week's surprise ending was, perhaps, the biggest. The tale of Red Riding Hood was told. A young woman who lived with her Granny, Red yearned to leave her grandmother's over-protective lifestyle and run away with a local boy named Peter.
Unfortunately, Granny was over-protective because their village was not a safe place to be at night. A wolf was killing sheep and numerous hunting parties were sent after it without success. When Red wanted to volunteer to help, Granny forbid it, telling her to keep her cloak on as red apparently repelled wolves.
Later, Red and Snow White met for the first time when Red found her hiding out in their barn after escaping from the Huntsman. Snow was cautious and wouldn't give her real name, but she and Red became fast friends, especially after they found a slew of dead bodies, which meant the wolf had moved on to killing people. Red told her about wanting to run away with Peter and then recruited Snow to help her track and kill the wolf. She thought if they could do it during the day, they would have the advantage.
The ladies set off and, after tracking the wolf's prints, realized that it was also human. After seeing the prints close to her cottage, Red had the horrible thought that Peter was a werewolf. She confronted him about it and still volunteered to run away with him, but keep him locked up during the full moon. He said they needed to be sure, so he had her chain him to a tree that night, while Snow acted as a decoy back at the house.
Unfortunately, both Peter and Red horribly misjudged the situation and here's where that Once Upon a Time twist came in: it turns out that Red was actually the wolf. As Granny explained to Snow as the two women searched the woods for Red, the werewolf gene was hereditary. Originally Red's grandfather had killed Granny's brothers and father, but then came back and married her. Their daughter (Red's mother) carried the gene and then passed it to Red before she was killed by hunters. The women found Red, with Peter dead nearby. Throwing the cloak (which kept her from changing into a wolf) onto her, Red changed back into a human and was confused and distraught over the situation.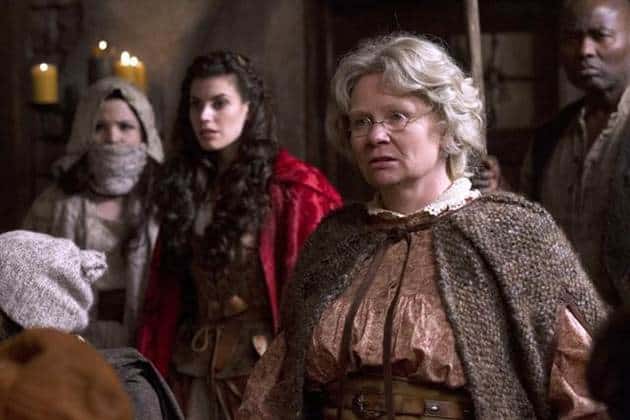 Granny and Snow wanted her to escape before the hunters found them, but Red learned that she was a wolf and had killed Peter before Snow managed to spirit her away. Now she's on the run and must find a way to deal with her werewolf problem, while also trying to heal from knowing that she killed the man she loved.
This week's Once Upon a Time also moved the Kathryn storyline forward. Ruby quit working at Granny's after she continued to treat her like a child and went to work with Emma as her assistant. Together they found David unconscious in the woods. Emma learned that he had had another blackout episode, much like after he first awoke from his coma. That left him wondering if he could have done something to Kathryn – or at least called her like the records indicate. While Regina put a stop to the interview, Emma sent Ruby out to the bridge to see if she could find anything. Unfortunately she did…she found a box (one of the Queen's boxes, I think, but correct me if I'm wrong). Inside the box was a human heart.
The horrible experience led Ruby to realize that working at the diner wasn't so bad and she returned to her grandmother. Meanwhile, Emma went to visit David and Mary Margaret and told them about the heart and the fact that she believes it belongs to Kathryn. But she had even more bad news: the box contained Mary Margaret's fingerprints.
Yikes!
A new episode of Once Upon a Time will air on March 18 and Mary Margaret will have to hire Mr. Gold when she's labelled a suspect in Kathryn's murder. Will she be able to escape these charges? Watch a preview for the episode here.
You should also check out our new Once Upon a Time showpage for all of our information and articles about the shows. All of the show's photos, sneak peeks, spoilers and recap in one convenient location!