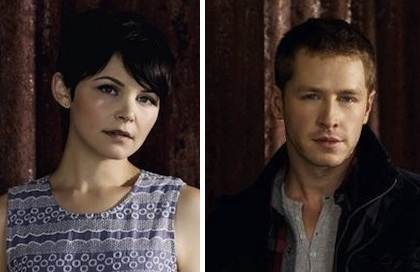 Fans of the Mary Margaret/David relationship will not want to miss this Sunday's new episode of Once Upon a Time! The duo have been drawn to each other even before David came out of his coma. In fact, according to Henry, it was Mary Margaret who finally managed to wake David up. Unfortunately, the epic love story we know should happen was cruelly derailed when David's "wife" Kathryn showed up. Despite their continued attraction, David seemed to remember his Storybrooke memories and decided to remain with his wife.
While the pair's story has taken a back seat for the last few episodes, they'll be front and center during this weekend's Once Upon a Time. Mary Margaret has admitted that she can't stop thinking about David and they'll find themselves alone together in the upcoming episode – trapped in a cabin in the woods while a storm rages outside. Frustrated, Mary Margaret will confess her feelings for David. As it turns out, she's been heading to Granny's diner every morning just to catch a glimpse of the man we know is her husband in the fairytale world. But she knows it's futile, because he's decided to remain with his wife.
Or has he? That is the question, folks. Because right after her declaration, David has a confession of his own to make. And then they lean towards each other and….do they kiss?! We'll all have to tune in to Once Upon a Time to see!
Alan Dale will also be returning as King George in the upcoming episode. In the fairytale world, Prince Charming's wedding to King Midas' daughter is approaching, but Snow White can't stop thinking about him. Unfortunately, King George seems determined to have his "son" marry Abigail at any cost and makes that known to Snow.
Watch an exclusive sneak peek below. Don't miss Once Upon a Time on Sunday, January 22 at 8:00 p.m. EST on ABC.
For more about the show (including additional sneak peeks, spoilers and information), visit our Once Upon a Time page.