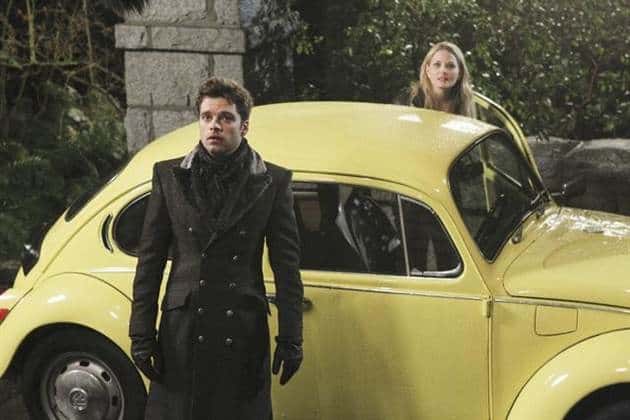 Sebastian Stan will be making a guest appearance in this weekend's episode of Once Upon a Time, appropriately titled "Hat Trick", since he'll be appearing as the Mad Hatter. The show will be leaving the fairytale world that we know when the Evil Queen sends someone to Wonderland to steal an artifact. The Mad Hatter will be appearing and The Who's Roger Daltrey will lend his voice to the character of the talking caterpillar. Plus, both the Queen and Knave of Hearts from the book will also appear.
Back in Storybrooke, Emma is searching for Mary Margaret, who escaped from prison in the previous episode. During her search she comes across a man named Jefferson, Storybrooke's equivalent of the Mad Hatter. But Jefferson is a curious fellow and is obviously straddling a thin line between his old and new lives. He drugs Emma and then asks for a favor: he wants her to help him make a hat. She quickly catches on that he believes he's the Mad Hatter and insists that Wonderland is just a story. But he shoots back that all stories have to come from somewhere. Will he be able to convince her that there's truth to Henry's tales or will she dismiss his beliefs as the ramblings of a mad man?
Watch a sneak peek below for the March 25 episode of Once Upon a Time, airing at 8:00 p.m. ET/PT on ABC. You can also watch a preview for the episode here.