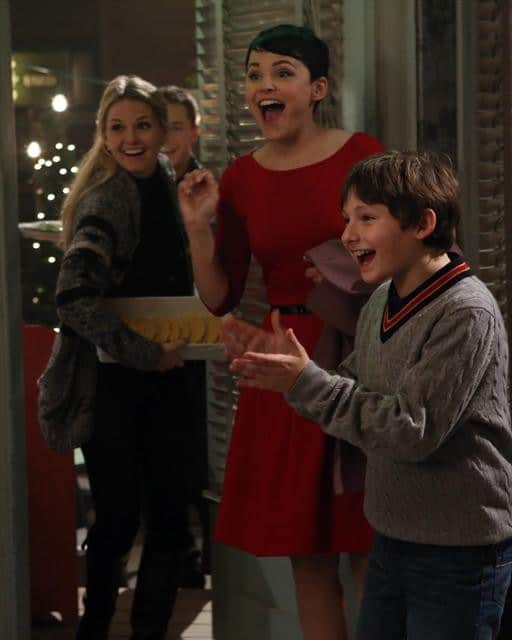 Mary Margaret and Emma were welcomed home by David and Henry in the winter finale of Once Upon a Time (read a recap) and now it's time to celebrate when the show returns from its winter hiatus this weekend.  Their friends throw a party for the women at Granny's Dinner, but the festivities are dampened when an unwelcome person arrives: Regina.  It seems like Emma is making the effort to befriend her son's adoptive mother, but Regina will find it very difficult to be friends with the other townspeople considering her history.  On the other hand, it looks like her rivalry with Emma will heat up again when her relationship with Henry is threatened, as you can see in a preview for the new episodes.  Frankly, the thing I'm most excited to see is how the Storybrooke residents react to the arrival of Cora and Captain Hook.  I'm pretty sure the party will be over for good when those two start wreaking havoc.
Meanwhile, in the fairytale land that was, we'll get a look back at a time we haven't seen before: the period after Charming woke up Snow from her poison apple coma.  We saw that the two of them reunited with a kiss and planned to retake the kingdom from the Evil Queen and now we'll finally see how they went about doing that.
Watch two sneak peeks below for the January 7th return of Once Upon a Time.  Keep an eye on our Once Upon a Time page for photos, spoilers, reviews and more.
[FLOWPLAYER=http://www.tvovermind.com/wp-content/uploads/2013/01/vlcsnap-2013-01-02-13h18m49s48.png|http://www.tvovermind.com/wp-content/uploads/2013/01/OUT210_fv1.h264HD.flv,480,320]
[FLOWPLAYER=http://www.tvovermind.com/wp-content/uploads/2013/01/vlcsnap-2013-01-02-13h18m57s127.png|http://www.tvovermind.com/wp-content/uploads/2013/01/OUT210_fv4.h264HD.flv,480,320]