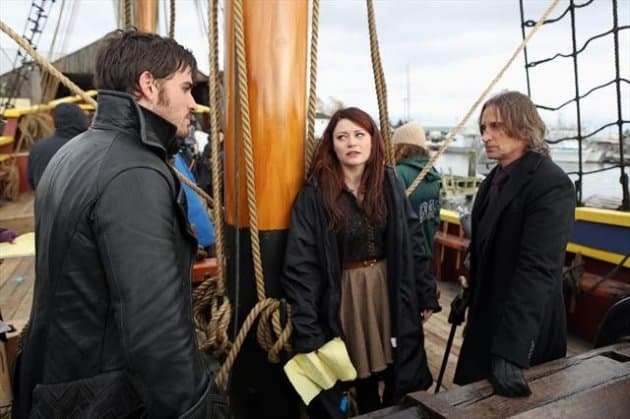 The people of Storybrooke hold a funeral for Archie on the upcoming episode of Once Upon a Time, completely unaware that he's still alive and being held hostage by Cora and Captain Hook.  His death is not the only problem they have.  As Grumpy points out, what happens if someone from the outside world stumbles upon Storybrooke and learns about the magic there?  Regina isn't the only danger in town…they could be in danger just because of who they are.  Couple that with homesickness and Grumpy and the rest of the Dwarves have a solution: returning to the fairytale land.  As Emma and Mary Margaret point out, they fought tooth and nail to return to Storybrooke so they're not too eager to return to the Enchanged Forrest any time soon.  But they're not the only people in town, of course.
Meanwhile, Hook has finally made his prescence known in Storybrooke and comes after Belle.  When Mr. Gold learns that his old nemesis is in town, he takes steps to try and protect Belle.  In the fairytale land that was, we'll learn about an unknown period in Belle's history when she teamed up with Mulan to try and slay a beast.
Watch sneak peeks below for the January 13 episode of Once Upon a Time on ABC and check out a preview for the episode here.  
Keep an eye on our Once Upon a Time page for spoilers, previews, sneak peeks and more!
[FLOWPLAYER=http://www.tvovermind.com/wp-content/uploads/2013/01/OUT211_fv1.h264HD.png|http://www.tvovermind.com/wp-content/uploads/2013/01/OUT211_fv1.h264HD.flv,420,280,true]
[FLOWPLAYER=http://www.tvovermind.com/wp-content/uploads/2013/01/OUT211_fv3.h264HD.png|http://www.tvovermind.com/wp-content/uploads/2013/01/OUT211_fv3.h264HD.flv,420,280]
[FLOWPLAYER=http://www.tvovermind.com/wp-content/uploads/2013/01/OUT211_fv4.h264HD.png|http://www.tvovermind.com/wp-content/uploads/2013/01/OUT211_fv4.h264HD.flv,420,280]
[FLOWPLAYER=http://www.tvovermind.com/wp-content/uploads/2013/01/OUT211_fv5.h264HD.png|http://www.tvovermind.com/wp-content/uploads/2013/01/OUT211_fv5.h264HD.flv,420,280]