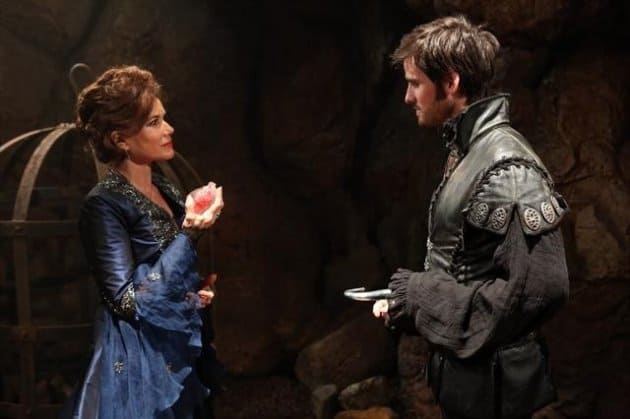 Last weekend's penultimate episode of Once Upon a Time for 2012 was a perfect set-up for the midseason finale.  David was able to deliver a crucial piece of information to Mary Margaret while in a dreamworld, but now he's trapped in a sleeping curse until she can wake him with a kiss.  In the fairytale land, Emma and Mary Margaret must retrieve special squid ink from Rumpelstiltskin's cell in order to trap Cora so that they can go through the portal instead of her.  But this is complicated by the fact that Aurora is unknowingly being controlled by Cora.
In the upcoming episode, it's a race for the women to prevent Cora from getting through the portal.  Mary Margaret returns to her castle and heads to Rumple's cell, but it seems that retrieving the ink won't be straightforward.
Meanwhile, in Storybrooke, Mr. Gold is concerned that David failed to deliver the message and that Cora will be the one who comes through the portal.  His fears will lead him and Regina to take some desperate measures that may jeopardize Emma and Mary Margaret's chances of ever returning home.
The show will also show us flashbacks to Captain Hook meeting Queen Regina and we'll finally get a peek behind the veil of the Red Queen when he travels to Wonderland.
Watch three sneak peeks below for the December 2nd episode of Once Upon a Time, airing at 8:00 p.m. ET/PT on ABC.
Browse our Once Upon a Time page for photos, spoilers, recaps and sneak peeks.
[FLOWPLAYER=http://www.tvovermind.com/wp-content/uploads/2012/11/ouat-209-1.jpg|http://www.tvovermind.com/wp-content/uploads/2012/11/OUT209_FV1.h264HD-Clip1.flv,440,280]
[FLOWPLAYER=http://www.tvovermind.com/wp-content/uploads/2012/11/ouat-209-2.jpg|http://www.tvovermind.com/wp-content/uploads/2012/11/OUT209_FV2.h264HD-Clip2.flv,440,280]
[FLOWPLAYER=http://www.tvovermind.com/wp-content/uploads/2012/11/ouat-209-3.jpg|http://www.tvovermind.com/wp-content/uploads/2012/11/OUT209_FV3.h264HD-Clip3.flv,440,280]