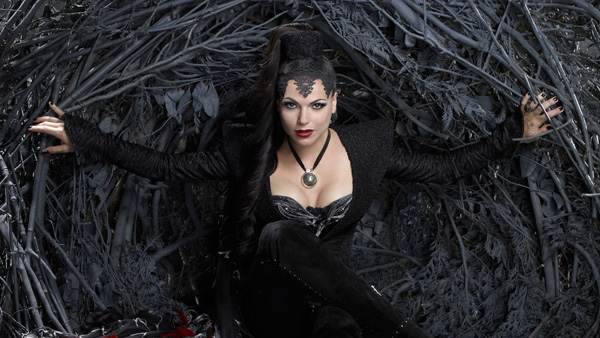 Once Upon a Time fans have gotten hints that some particular moment in time caused a terrible and damaging rift between the Evil Queen and Snow White. Since that event, the Queen has loathed Snow, who became her step-daughter and who she eventually tried to have killed when Snow's father died (but was actually killed by a plan hatched by the Queen). But the question on everyone's mind is "what was that event that caused the rift?"
Well, the show plans to reveal this to us in the April 1 episode of Once Upon a Time. In that episode, titled "Stable Boy", Barbara Hershey will be guest starring as the Queen's mother, Cora. In the fairytale world, we'll see the Queen's life before she became evil, but it is a defining moment in her life, because she'll have to make a choice. Does she (1) betray her mother and marry for love, or (2) marry a royal and life a wealthy – but loveless – life. The reason why the Queen hates Snow White will also be revealed. Will Snow do something terrible to the man that the Queen actually loves? Or is there another explanation? At the recent PaleyFest panel, Ginnifer Goodwin hinted that the defining event would not be so black and white.
Meanwhile, in Storybrooke, Emma will be on a crusade to prove that Mary Margaret didn't kill Kathryn and the show will finally reveal Alan Dale's role in Storybrooke: he is District Attorney Albert Spencer. Richard Schiff will also reprise his role of King Leopold, Snow White's father.
Once Upon a Time airs on Sunday nights at 8:00 p.m. ET on ABC.
You should also check out our new Once Upon a Time showpage for all of our information and articles about the shows. All of the show's photos, sneak peeks, spoilers and recap in one convenient location!