The Once Upon a Time cast took the stage at this year's PaleyFest. All of the main cast was present, save for young Jared Gilmore, and the showrunners Edward Kitsis and Adam Horowitz were also on hand to discuss what's happened on the show so far and what's to come for the rest of the season.
How the Curse Works in Storybrooke: The producers explained that no one was aging in Storybrooke for the last 28 years from when the curse originally took effect. At least, no one was aging except for Henry, who was adopted as a baby. But it wasn't until Henry got the fairytale book that he realized something strange was going on in the town.
Undoing the Curse: The town definitely changed when Emma arrived and the clock started moving again. And it was then that some people started realizing that strange things were going on. The producers hinted that perhaps we've already seen some clues for how the curse will be broken. But don't think that Mary Margaret and David kissing is the way to achieve it, as we've seen in previous episodes. The producers said that if you go back to the pilot episode, Rumplestiltskin hinted that the savior would be born soon and would start making his/her impact known when they reach their 28th birthday. Unfortunately for David and Mary Margaret, they're not the savior.
Emma's Skepticism: Jennifer Morrison explained that Emma definitely doesn't believe Henry's stories about how the fairytale characters are living in Storybrooke. She just thinks it's his imagination. But there will be episodes coming up where Emma will realize that something strange is happening in town. There won't necessarily be a big "a-ha!" moment where she believes the fairytale world is real, but she will start to realize that things are definitely strange.
The Snow White/Evil Queen Feud: Gennifer Goodwin assured the audience that we will find out what happened between these two women in this season of Once Upon a Time. Goodwin says that "it's not black and white and it really adds a richness to their relationship that we will need in subsequent seasons."
Archie's New Patients & Jiminy's Storyline: Raphael Sbarge said that Archie will be getting two new patients: David and Mr. Gold. Josh Dallas explains that David obviously has a lot of problems. He woke up from a coma and was thrust into a new life that he didn't remember. Plus, he's got these strong feelings for Mary Margaret that he can't fight and that he never felt for Kathryn. He'll be seeing Archie to deal with all of this. As for Mr. Gold…Robert Carlyle said that his character visits the therapist because there's no one else in Storybrooke that he can really talk to. We'll also be seeing more of Jiminy Cricket in the fairytale world. We know his origin story, but now we'll be seeing him interact with more of the characters.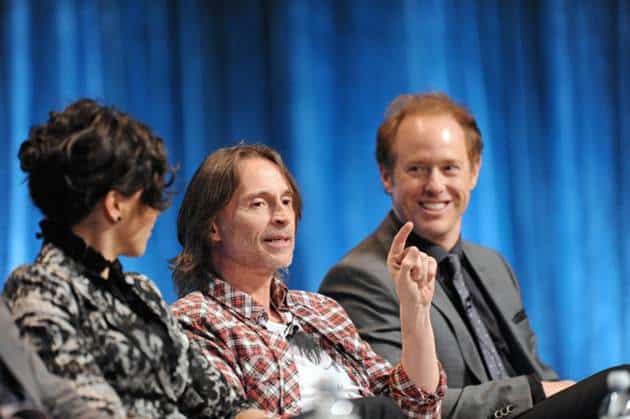 The Ongoing Saga of David and Mary Margaret: Dallas explained that David is definitely wracked with guilt over Kathryn's recent disappearance, but there is a pull towards Mary Margaret that will continue to define their relationship this season. Their love and attraction will continue drawing them together. But their happy ending will likely be a long time coming. Even after the whole Kathryn situation is resolved, there's another obstacle on the horizon.
The Return of Jamie Dornan: Sheriff Graham may have gotten his heart ripped out on Once Upon a Time by Regina, but that doesn't mean we won't see the actor again. The producers said that "he is very much alive when we go back to fairytale world", which means that the Huntsman should be making a return appearance.
Other Fairytale Characters: We already know that Barbara Hershey will be making an upcoming guest appearance as the Evil Queen's mother. Lana Parrilla said that the two characters don't get along very well, but she was thrilled to work with Barbara. The producers also said that they would definitely love to tell the story of Ariel and The Little Mermaid, but that's something for season 2. There's so many stories to tell for the main cast right now that some fairytale characters just can't be brought in yet. As for whether or not Maleficent would return, Horowitz said "it would be disappointing if we never saw her again".
The Mysterious August: The producers said that we will definitely find out who he is, what he's trying to accomplish and how will go about accomplishing it before the end of the season.
Regina and Mr. Gold: It's clear from an earlier episode that both characters are fully aware of their fairytale past. The producers said that they'll be speaking "out in the open" from now on and the big question for both of them is "what's your agenda?"
Once Upon a Time airs on Sunday nights at 8:00 p.m. EST on ABC (watch a preview for the March 11 episode). For more about the show, including sneak peeks of upcoming episodes, view our Once Upon a Time page.
Photo Source: PaleyFest