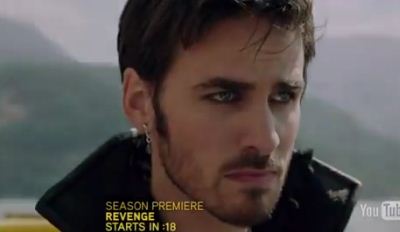 Once Upon a Time returned this week for its second seasons, bringing some stellar ratings in its wake.  If you didn't see the pretty terrific season premiere (read our recap), then you missed out. Emma and Snow White are not trapped in the present fairy tale world, along with Aurora and Mulan, and need to work to get back home. 
Here's the synopsis for the October 21 episode, titled "The Crocodile": "Belle's disgust over Mr. Gold's continuing thirst for power comes to a head, and she threatens to leave him if he can't change his evil ways; the dwarves pick up their axes and try to find fairy dust in the Storybrooke mine; and a reunion with an old acquaintance could prove to be Belle's undoing. Meanwhile, back in the fairytale land that was,  Rumplestiltskin attempts to save his wife, Milah, from being kidnapped by a band of cutthroat pirates."
The preview for upcoming episodes that aired after the premiere gave us our first look at Captain Hook and it seems clear that this will be the episode to introduce him.  Will we see him Storybrooke as well?