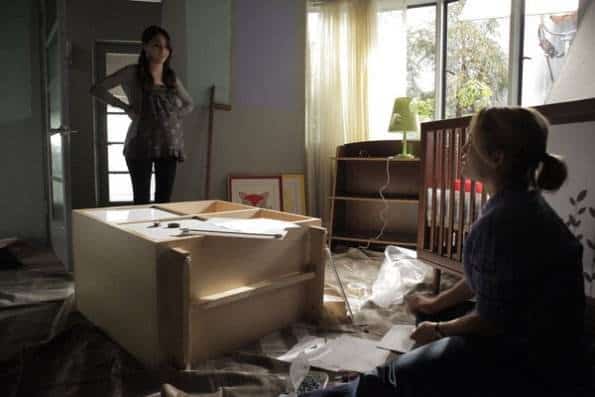 From the outside looking in, the Braverman family looks to be pretty darn perfectly imperfect. While they can all be a bunch of know-it-all busybodies that think they have domain over other people's life decisions, they're also one of the most loyal, caring, tight-knit group of people on television, a unit that can weather any storm that comes their way. I think that's why Parenthood has gelled so well at the end of each of the last two seasons; once all 532 members of the Bravermans are dealing with each of their own personal crises at the same time, it's almost superhero-esque how they all spring to help one another get over life's many hurdles.
In a season built on change (romantic, familial, personal, and professional), "It Is What It Is" feels like the family reaching near the end of its rope before it's time for things to start shifting to their next logical phase. With only four episodes remaining in the season, everybody has to get to where they need to go sometime or another, but before that can happen, they have to take the baby steps necessary to be able to fulfill themselves.
The family may not have been together tonight like they were in "Road Trip", but the plague of newness was spreading rapidly in Parenthood Land, with each of the night's storylines raking Team Braverman just a little more for good measure. Perhaps scariest of all was Zeek's medical scare, as the ol' warhorse was officially diagnosed with atrial fibrillation (abnormal heartbeat); granted, it's treatable with medication and lifestyle changes, but it noticeably shook him up for the duration of "It Is What It Is". What struck me was the irony, in that Zeek has been the most vocal about wanting to keep the status quo in midst of all these shifts from his children and yet now he's being forced to alter his life. He didn't want Julia to adopt, he wanted Adam to continue giving poor punishments to Max, and he was upset at Sarah helping out Seth, all in the name of keeping things as they were, but this episode kind of opened his eyes to the fact that "buddy, sometimes change isn't only necessary; it's pivotal for you to live". It was a little perturbing to see him jump at the chance to gorge on pizza with Sarah after his earlier diagnosis, even striking me as hypocritical due to how heavily he stresses family/togetherness, but considering how bullheaded the man is, it seemed par for the course.
Also par for the course was the reaction of two Braverman siblings to their children and their college choices. Incidentally, they both invoked earlier storylines this season to great effect, with Drew's deepening relationship with Amy and Haddie's jealousy/resentment toward Max coming up again. Even though we already went through the college bump and grind with Amber last season, I've enjoyed what we've gotten from exploring the older kids and their desire to get the heck out of dodge, mostly due to what it stirs up in those around them. (Drew's growing independence from Sarah, including tonight's brush-off at UC Davis, may be my favorite story of the season, if only for the evolution their relationship has taken from the premiere to now.) The only false note that rang from either story, matter-of-fact, was that Adam told Haddie she could go to Cornell, despite the exorbitant toll it would take on his family's finances. I couldn't quite feel sorry for Haddie not being able to go to a 60,000/year school, not because she didn't make a (scathingly good) point about coming in second to Max a lot, but because it felt realistic. Parenthood may luxuriate in its pool of upper-middle class, but this was the type of timely, pointed story that could bring it back down to earth a bit.