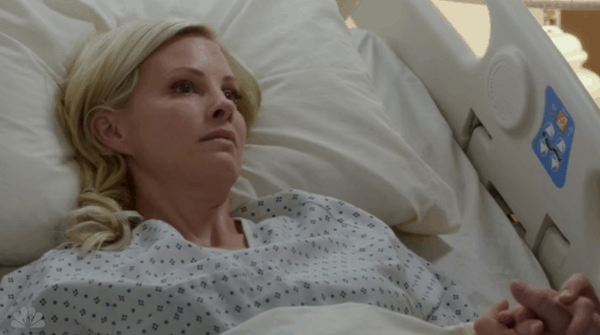 Like it or not, Kristina is going to be dealing with a parade of people from here on out. They'll either be pushy or they won't want to bother her with a request; they'll either want to do everything for her or they'll be treating her like she's cancer-infected glass and too precious to take a breath around for fear of damaging her; they'll want to try to comfort her as best they know how, but everything they come up with in their head will sound trivial. Kristina has already been through a lot this season on Parenthood and believe it or not, her journey toward remission is only just beginning.
On the next episode of Parenthood, two of her friends will be stopping by the house to offer their condolences and wish her the best, but things are immediately very, very awkward. They don't know what to do or what to say in order to make their friend feel better and that lack of foreknowledge as to her needs right now makes an already uncomfortable experience a little bit more so. Kristina doesn't want to be around them right now, either due to her lack of energy or not wanting to make them feel like they have to do something, and can't seem to get away from them, thanks to Camille. It's just a bad situation and it's nobody's fault – you can't prepare for how you're going to feel when you're sick or what you're going to want from your friends, so right now, it's about doing the best that you can on a minute-by-minute basis.
Elsewhere on Parenthood, Adam goes into Helpful Husband overload, which might not be what Kristina needs right now. Case in point: the healthy drink that he makes in the blender that she spits out in the sink. Adam may have the best of intentions and want to do anything to make his wife feel better at a time like this, but right now, the best thing might be the lay back, let her breathe, and not put so much pressure on her at once.
Parenthood airs Tuesdays at 10:00 on NBC. You can check out photos from the episode here, as well as spoilers for the next two episodes of the show here.
What have you thought about the fourth season of Parenthood thus far? How would you react in this situation if you were Kristina? Do you think she (and Camille) did the right thing?
http://www.youtube.com/watch?v=8ypppq2jjP4
http://www.youtube.com/watch?v=OTjgi4As3LM