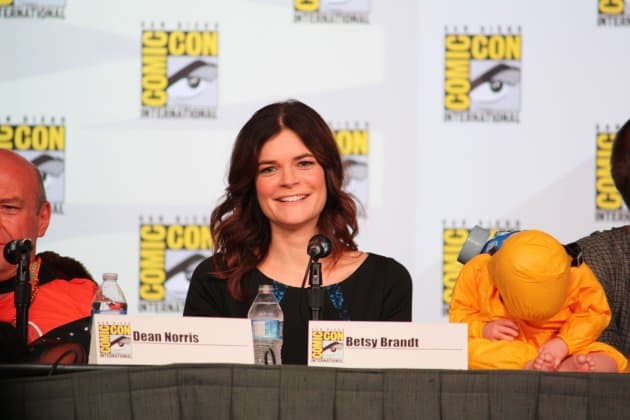 According to TV Guide, Breaking Bad actress Betsy Brandt will be guest starring on Parenthood later this season. Brandt is set to appear on one episode of the family drama as Hank's (Ray Romano) ex-wife, though there hasn't been any word as to when her episode will air or details about her character.
Hank's ex is inadvertently walking into a rather awkward situation at the photography studio. Following an ill-advised kiss in the dark room, Hank and Sarah are at a loss for how to be around one another, the latter deciding to move in with her fiance as a result of the encounter. Adding in an ex-wife to the situation, even for only one episode, should whip the already frayed emotions up that much more, though it could maybe force the two to have to talk about what happened. They'll never be able to work together again in peace without sitting down and talking about the kiss, but Hank would rather cut off a limb than bring it up again and Sarah is trying to distance herself from what happened. It may be up to a third-party like his ex to come into town and facilitate conversation that needs to be had, however indirect her role may be.
Best known for playing purple-loving kleptomaniac Marie Schraeder on the AMC drama, Brandt has appeared on the likes of Private Practice, Fairly Legal, and No Ordinary Family. She joins a line-up of Parenthood season four guest stars including Matt Lauria, Pamela Adlon, and Paul MacDonald.
Parenthood airs tonight at 10:00 on NBC. You can check out a preview for tonight's episode here, as well as photos from the same episode here and the TVOvermind Parenthood discussion forum here.
How will Sarah react being around Hank's ex? Where do you think the connection that Hank has with his assistant go? Will we see Ruby around both of her parents at once?