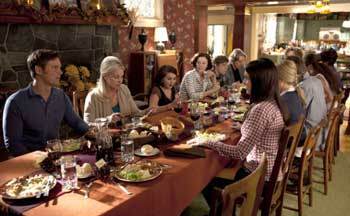 Fire up some Huevos Braveros because Deadline is reporting that NBC has ordered two additional episodes of Parenthood. While the show may not be a huge ratings hit, it's been consistent since its debut last spring and has become the network's top-rated drama. The show originally had an order of 16 episodes, but I wouldn't be surprised if it eventually gets a full season order of 22 episodes or 24, with these two episodes added in.
Telling the story of the Braverman family, led by Zeek (Craig T. Nelson) and Camille (Bonnie Bedelia) and featuring siblings Adam (Peter Krause), Sarah (Lauren Graham), Crosby (Dax Shepard), and Julia (Erika Christensen), Parenthood rose in the ratings last week in its Tuesdays at 10:00 timeslot. To check out promo for the fourth episode of the season ("Clear Skies From Here on Out"), where Zeek gets a commercial, Camille does some soul searching, and Drew goes on his first date with Amy, click here.
How have you been enjoying season three of Parenthood? Where do you hope the show goes with its two extra episodes? Do you think that NBC should move the show from its timeslot, since it obviously has a loyal audience?