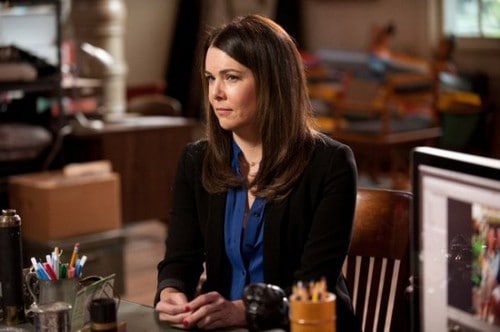 There is no more time for Sarah Braverman to waffle. After spending much of the fourth season of Parenthood in emotional limbo, torn between her feelings for photographer Hank and (former) fiancée Mark, the mom of two has been called on her indecision by both parties; to be able to move on with their lives, they need to know what she wants and they need to know it now. But where exactly does her heart lie and can it ever match up with her head?
On the season finale of Parenthood, Sarah finds out that Hank will be selling the shop and moving out to Minnesota to be near Ruby. While it may be a wise move for him to make to keep the relationship with his daughter sound, it puts an added amount of pressure to Sarah's decision. If she does choose to be with Hank, she'll be moving away from her entire family (again), only this time much further, but if she chooses to be with Mark, there's a strong likelihood that she'll never hear from Hank again. Both men seem to be okay with either outcome, having gotten frustrated by being left in the wind through all the drama, so now it's up to Sarah to determine her future. Is she ready for that much responsibility?
Elsewhere on Parenthood, Jasmine and Crosby receive exciting news, Adam and Kristina prepare for the next phase of her treatment, Drew finds out about his college acceptance, Amber and Ryan discuss their relationship, and Julia and Joel plan an event for the entire Braverman family.
The fourth season finale of Parenthood airs Tuesday at 10:00 on NBC. You can check out a full episode description of the finale here.
With Drew leaving to go to college and Amber out on her own, does Sarah have a reason to stay where she is? Do you think that she'll opt to be with Mark again, after everything they've went through? Where will Sarah Braverman be in (a hypothetical) season five of Parenthood?
http://www.youtube.com/watch?v=yaEU5aKHAuY