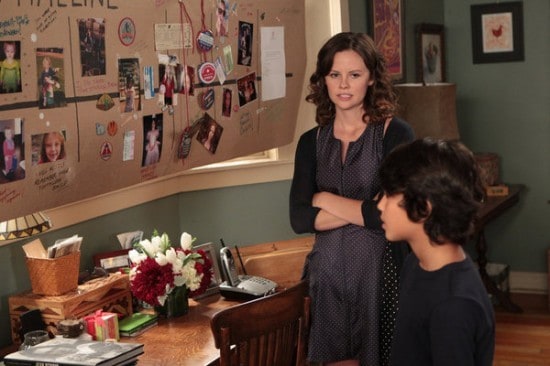 Parenthood will be returning for its fourth season in a matter of days and when it does, the Braverman family will be in a position that it has never been before. Through all the drama, all the crying, all the family bonding, the family has yet to truly lose one of their own. The four siblings may be off exploring their own interests and living their life the best way they know how, but there's an understanding between them that they'll be there for one another, rain or shine. Once Adam and Crosby made up at the end of last season, you just knew that the Braverman family would be able to overcome whatever issues they may have with one another.
But will they be able to handle one of the members of their family leaving town for an extended amount of time?
Goodbye, Haddie
Over the course of its run, Parenthood has consistently brought people in and out of the Braverman orbit while never doing much alteration to the family itself. Teachers, love interests, best friends, employers – they've come and gone and then came back again. But beginning in the fourth season, the Braverman family will be undergoing its first major change, as one of their own will be heading across the country. The season premiere, titled "Family Portait" and whose full episode description is available here, will find Haddie heading out into the Ivy League world after getting accepted to Cornell. Although, according to TV Guide, she'll pop back up in the sixth episode to help Max run for class president, her departure is sure to be one of Parenthood's signature tearjerking scenes that highlights the bond that the family has (and how close the audience has grown to them, in turn).
The Honeymoon Phase?
Last season concluded with Crosby and Jasmine breaking up with their significant others and getting back together while on a field trip with Jabbar, marrying within a couple days of their reunion. When Parenthood picks back up, the two will be figuring out how to be married to one another and the type of adjustments and compromises that go into a successful marriage. TVLine reports that the couple will have a series of close-ended stories that play into their obviously different points of view – they'll have to figure out things like how to pay bills, how to make plans (including in their sex life), and how to co-parent Jabbar while working to keep their relationship strong as ever.
Drew and Amy
Despite Zeke agreeing to help Drew bulk up after a summer away from Amy (per Entertainment Weekly), the lovebirds will be breaking up early in the season, according to TVLine. If the loss of the girl that was his first in many ways wasn't enough, he might have to move in with Mark when Sarah decides to take their relationship to the next level. We already know that she'll be confronted with the temptation of another man this season in Ray Romano's Hank, a cynical, more age-appropriate photographer that she ends up working for, so maybe uprooting Drew during his senior year of high school might not be the best idea. Plus, Entertainment Weekly mentions that the initial conflict will be between Mark and Camille, over something reportedly very small that could have long-lasting implications.
Anything Else…
-Hank will be making a connection with another member of Sarah's family, per Zap2it. Could it be Drew, which would make the move even more awkward? Or maybe Max?
-TVLine reports that Hank will be bringing his difficult 11-year-old daughter Ruby around, while Crosby and Jasmine will have to deal with someone calling Jabbar a racial slur.
-Also from TVLine, American Idol alum Paul McDonald will be Amber's latest love interest, a musician that records at the Luncheonette and starts pursuing the newly hired receptionist. But considering that he has a girlfriend (!), you have to wonder just how genuine his interest actually is and how much it's motivated by what she can do for him at the studio.
-The episode description for the second episode of the season, titled "Left Field", has been released:
As the family adapts to their new son, Julia (Erika Christensen) communicates her love in an unusual way to Victor (Xolo Mariduena). Meanwhile Crosby (Dax Shepard) and Jasmine (Joy Bryant) work as a couple to add structure and boundaries to their marriage. Also, Sarah's (Lauren Graham) new boss Hank (Guest Star Ray Romano) unexpectedly helps her understand Drew's (Miles Heizer) feelings. And Kristina (Monica Potter) convinces Adam (Peter Krause) to fill a missing void in the household and receives news that may change her life forever
Parenthood returns Tuesday, September 11th at 10:00 on NBC. You can check out a series of other Parenthood spoilers here, as well as the TVOvermind Parenthood discussion forum here.