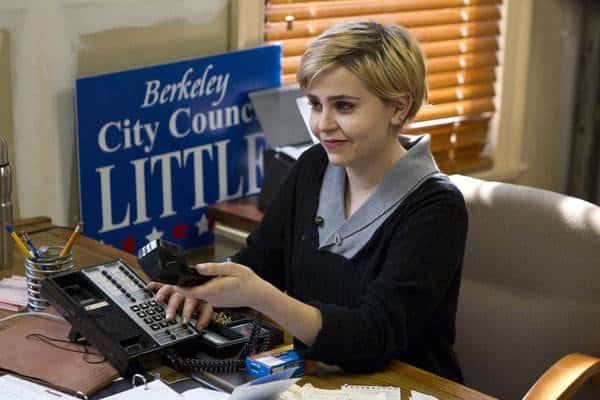 Every Tuesday night, you can usually find me thumbing through my notes on the latest episode of Parenthood, scowling and trying to brainstorm. Though I enjoy Parenthood and consider it one of the best broadcast dramas out there, it can be a little hard to write about, for reasons other than the obvious. Yes, there are usually several storylines ramshackled together with bubblegum and indie pop, but the main reason I often get stuck on Parenthood reviews is the show's naturalistic style. It may be earthy and refreshingly honest, but it can also lead to me not knowing whether my feelings on an episode stem from character or plot. Parenthood has done such an exquisite job establishing the Braverman family, in all its iterations, that writing about it can feel like writing about your family members; you have to separate your personal, visceral reactions to what's going on and try to look at the bones of an episode for what they are, nothing more or less.
"Politics", Parenthood's first episode after a two week break, hit that problem right on the nose for me, in that critically I leaned one way and emotionally I leaned another. Most notably, with Sarah and Mark's ultimate decision to pass over climbing Mount Kilimanjaro and writing in Morocco for the prospect of having a baby, like, right now. I've been a big proponent of Mark and Sarah from the beginning, as their interactions feel so easy and earned, but what joy I got from them moving on to the next phase of their life together was quashed by taking another look at their dilemma. Sarah's a (very impulsive) lady of a certain age, but didn't she consider having her eggs frozen until she and Mark were truly ready? Or perhaps adopting a child and forgoing any type of concern about her age affecting a child's health? The talk about a baby for them has always had me a little worried, considering how heavy season 3 has been on the topic, and I'm not a fan of the direction it's going. Sarah and Mark aren't trying to have a baby because they're ready; they're trying to have a baby because she's insecure and he's head-over-heels enough to go along with her. Sarah finding love and getting her life together away from her children has been one of my favorite stories this season, but flirting with the possibility of another child feels like a regression as opposed to progression. There's so much beautiful material to be mined from single mom getting her children raised and looking ahead to the next phase of her life, finally able to live for herself and put her needs more toward the top of the list. There are other shades of parenthood aside from "perpetually with child" and I wish that Parenthood would explore them through Sarah.
Also causing problems is Amber's plot, as she and Bob finally consummated their obvious tension through a kiss at work. Up front, I'll say that I really enjoy them together, but I have a feeling that it'll be nothing but trouble from here on out for the two. As touching as it was to hear Bob verbalize all the things about Amber that are truly beautiful that we've learned over the past 3 seasons, it's one of those damned if you do, damned if you don't situations. Amber either goes with her heart and embraces one of the few people that truly gets her, ultimately losing out on a promising job, or she rejects Bob, keeping her career but losing a companion. You want Amber to have the job and the man because of how much she's struggled to get here, but it can't be like that, not in the world of politics and not with Bob Little. There's a certain sadness about Amber's story that's appealing, but my only hope is that Parenthood doesn't take the easy way out and make this into a scandalous plotline. For me, it'd be best for it not to leak and if it has to end, end quietly and cordially; it'd hit a lot harder (and be closer to Parenthood's identity) to watch the internal struggle play out intimately, as opposed to on press conferences and newspaper headlines. It'd be painful to watch two good people with promising futures have their lives and careers ruined, especially considering the progress Amber has made from this time last season.