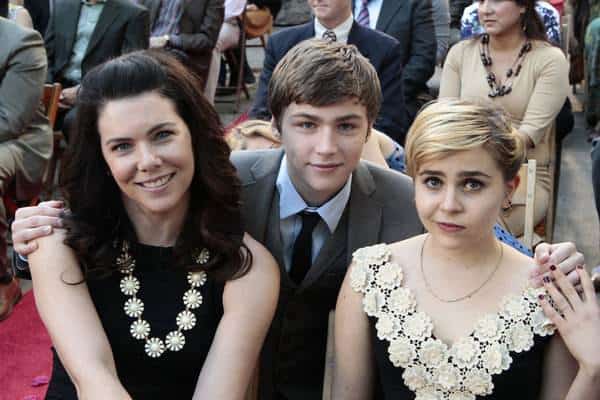 If you had to pull together a wedding in 72 hours, could you?
In the third season finale of Parenthood, Crosby and Jasmine have that challenge before them after getting re-engaged during Jabbar's school camping trip last week. Of course, there's a lot of joy to be shared by the entire family, but they can't celebrate for too long, as there's planning to be done and decisions to be made.
When you have a family as large and motivated as the Bravermans, though, things might not be as hard. Say what you want about how nosy and inappropriate they can be, but the Braverman family can get stuff done and I'm thinking the wedding will turn out lovely. There's the matter of divvying up the tasks at hand, though, administered out by patriarch/drill sergeant Zeek, who seems to be the only one to know the Bravermans are part Jewish.
(Raise your hand if you knew that. I thought so.)
Crosby also has to deal with the possibility of selling The Luncheonette, his dream job and the source of his brotherly bonding with Adam. Adam, while meaning well (I think?), picks absolutely the wrong time to come to Crosby with this, especially since he took the meeting behind Crosby's back. He may be desperate for an answer, but it could have waited a few days at least. Richard is obviously keyed in on acquiring The Luncheonette and I doubt he'd willow away if Adam told him to give him a few days due to his brother getting married.
Parenthood's third season finale airs Tuesday, February 28th at 10:00 on NBC. If you missed my review over a very strong penultimate episode, you can check it out here. Additionally, look for another set of Braverman-themed sneak peeks coming sometime next week.
How do you feel about Crosby and Jasmine getting married? Do you think that the Bravermans can pull off a wedding in such a short amount of time? If you were Adam and Crosby, would you sell The Luncheonette?