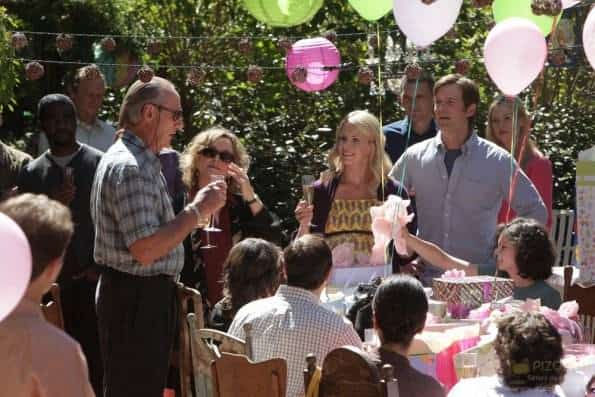 When last we left Parenthood's Team Braverman, things were finally looking up a bit, with Crosby's, Adam's, and Sarah's relationships all recovering from earlier bumps in the road. Julia seemed to be moving on from the thought of adopting Zoe's baby, Amber was ready to get out of the food service industry, and Drew had finally poked his head out of his shell enough to get a girlfriend and some confidence. As much drama (and melodrama) as the Braverman family had dealt with in season 3, it looked as if the storm clouds had finally cleared a little.
But wait! This is Parenthood after all, so the final seven episodes of the season are bound to amp things up. That amping up looks to be starting with Braverman partiarch Zeek, generally a peripheral character that tends to pop up in other people's storylines to voice his (unfiltered) opinion. TV Guide is reporting that sage ol' Zeek is hiding something from his family; no, it's not another real estate/money pit that almost cost him his marriage in season one. Instead, it seems like Zeek's been disguising a medical problem and Crosby will be the one to figure him out after accidentally picking up his medication. It may sound a tad sitcom-y, but it'll bring Zeek down from his high and mighty perch and could humanize him through that type of vulnerability. If that wasn't enough, we'll be meeting Zeek's mom very soon, according to TV Line. Set to be played by Frances Sternhagen, perhaps best known as Bunny MacDougal on Sex and the City, Zeek's mother will be celebrating a birthday during the first episode back (titled, fittingly, "Road Trip"), so all 393 Bravermans will be taking to the roads on a caravan of dysfunction.
Road trip/destination episodes can be a tricky thing to do well, but you just know that a bunch of Bravermans trapped in a confined space is a highly conducive environment for drama.
Mark and Sarah's relationship has, for the most part, been out of the least dramatic parts of this season, a playful bit of glow-y new relationship bliss that helped balance the heavier aspects of a particular episode. Considering that Jason Ritter will only be on 13 of the 18 episodes this season, you knew it had to give sometime soon and it will, according to Entertainment Weekly. It'll be the age difference that will undo the couple, exacerbated by a meeting with his friends that highlights the difference in life experience between the two. The two had been talking babies recently, due in part to a positive experience watching Nora together, but don't get too comfortable with the thought of this being a permanent thing.
Looking more and more like he'll be re-entering the dating world is Crosby, who seems to have quashed any chances of a romantic reconciliation with Jasmine. (For now.) After dating on and off earlier this season, the Cros-man has his eye on a musician played by Courtney Ford that he meets at the Luncheonette. Per TV Line, Ford's character will appear through at least the end of the season, but if Parenthood gets picked up for a fourth season, I wouldn't be terribly shocked to see this storyline stretch further. Crosby's spent a lot of time beating himself up and feeling guilty this season, but it really feels like he's ready to move on and a new love can only expedite the process. While Crosby is moving on from his last love by choice, Haddie is moving on by necessity, as Entertainment Weekly indicates that former flame Alex (Michael B. Jordan) won't be returning anytime soon. Their break-up had a major sense of finality to it, complete with an emotional goodbye between Kristina and Alex, so it makes sense to hold out on a reunion, at least for now.
I have a sneaking suspicion that we haven't seen the last of Alex, though, and that a Mark/Sarah-type reunion could be in the cards in the distant future.
In interesting (but not entirely plot-related) news, Adam Braverman (Peter Krause) himself will be directing an episode of Parenthood, according to TV Guide. The 15th episode, titled "Politics", will be helmed by the Emmy nominated actor, though no official description has been released. (I'm willing to bet that Amber and Kristina's new job working for a campaign plays a major factor, but it could just be another great "theme" episode of Parenthood.) Whatever it's about, look for the episode during February sweeps.
Even though the description for "Politics" is still a mystery, the first two post-hiatus Parenthood episodes have had the veil lifted off them:
"ROAD TRIP"
Seeking his mother's approval, Zeek (Craig T. Nelson) demands the entire family caravan on a road trip where they encounter many road blocks along the way. While spending time on the road, Adam (Peter Krause) connects with Haddie (Sarah Ramos), Sarah (Lauren Graham) confronts an embarrassing issue with Drew (Miles Heizer) and Julia (Erika Christensen) learns to appreciate Crosby's (Dax Shepard) odd personality. Meanwhile, Kristina (Monica Potter) struggles to enforce a harsh punishment she gave to Max (Max Burkholder) for acting out.
"JUST SMILE"
Crosby (Dax Shepard) is frustrated when Adam (Peter Krause) becomes the focus for a local newspaper's piece on the Luncheonette. Meanwhile, Amber (Mae Whitman) struggles to find her place in a new job and Sarah (Lauren Graham) becomes overwhelmed with thoughts of having a baby. Also, Julia (Erika Christensen) and Joel (Sam Jaeger) try to resist interfering in Zoe's personal life.
In a nutshell, "Road Trip" looks like a lot of (necessary) family bonding, since we only get certain combinations of Bravermans on a regular basis. Ideally, I'd like for the show to throw together all types of family iterations in weekly storylines as opposed to shoving them all together, but any chance for Haddie/Adam, Julia/Crosby, and Sarah/Drew in the same episode is too good to pass up. "Just Smile" returns us to status quo and I'm intrigued to see how the road trip, a fairly big family event, resonates on the rest of the season. From the description, it looks like a lot of baby fever (am I the only Parenthood fan who's kind of babied out?) with some needed time given to Amber, who has one of the better storylines right now.
Parenthood's third season has had moments of greatness, but I'm hopeful that the final seven episodes (the only rerun between now and the season finale is on January 24th for the State of the Union Address) can step up even more and close things out the right way.
Parenthood returns Tuesday, January 3rd at 10:00 on NBC.
What are you most looking forward to in the final seven episodes of the season? Which plot would you most like to see trimmed or cut out completely? Of the first two episodes, which sounds better?