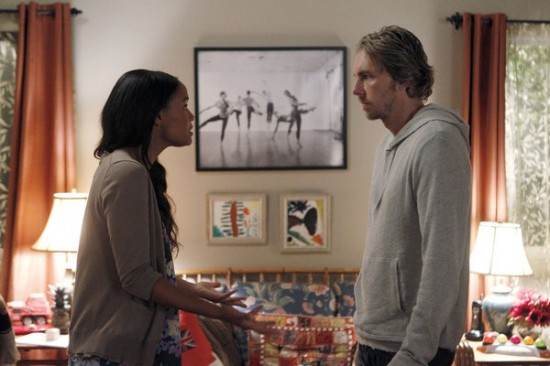 Hard as it is to believe, we're only two episodes from having to say goodbye to the Braverman family. Hopefully, it's only more of a "see you later" versus a "goodbye", though, but considering that Parenthood's ratings are neither awful (for NBC) nor a slam dunk, it'll be a tense moment come upfront time in May. Before we worry about renewal prospects, though, let's focus on the end of season 3, as Parenthood still has a lot of plates spinning in the air right now and is trying hard to keep them there. In the recently released synopses from NBC, we get a little view as to how well they'll be kept up.
Episode 17: Remember Me, I'm the One Who Loves You
Julia and Joel head to the hospital for the birth of their son. Meanwhile, Sarah considers the possibility of a new life in New York with Mark, Adam and Crosby receive an extraordinary offer to sell The Luncheonette, and Jasmine and Crosby reconcile their past during a camp out with Jabbar.
Episode 18: My Brother's Wedding
The Bravermans come together to celebrate a momentous event while Julia and Joel strive to overcome the emotional rollercoaster adopting a child has put them through. Also, Crosby and Adam decide on the fate of The Luncheonette and Sarah makes a difficult decision about her future.
Just in those six descriptive lines, you have a birth, a breakup, and a (mystery) wedding, with the possibility of a fairly major season three player (The Luncheonette) getting sold. Conspicuously absent are any mention of Drew and Amy's relationship, Max's new friendship with Micah, and Amber's awkward situation with Bob, but Parenthood has excelled at tying up loose ends at the end of its past seasons and season three looks to potentially go out with a serious bang.
Parenthood airs Tuesdays at 10:00 on NBC. If you missed my review over a nosy, loud episode this week, you can check it out here.
Do you think the season finale wedding will be Crosby and Jasmine getting hitched? (My guess: it will be.) Should Sarah get the heck out of town and go to New York with Mark? How do you think Joel and Julia will adjust to being new parents again?