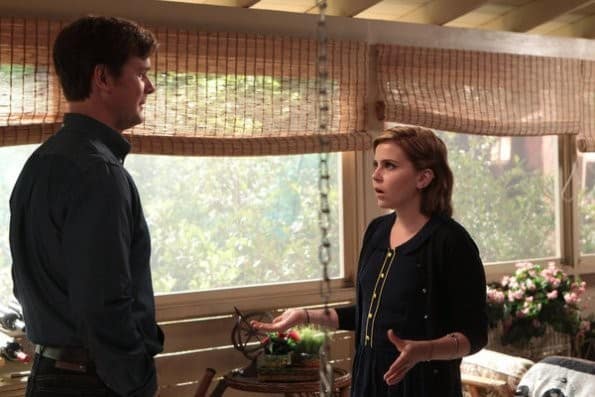 A picture holds one moment of time in its hands and won't let go. Things may change once it's taken, developed, or put on a Facebook page, but with one click of a button, entire relationships and life events can be captured for posterity's sake. It can make looking back simultaneously painful and euphoric, the emotions that you experienced at the time being brought up and clashing with what happened after the flash went away. On tonight's episode of Parenthood, the value of pictures will be explored with a round of Braverman family portraits.
The most important thing about the episode is that it's Haddie's final days before heading off to Cornell to begin her college journey, so the idea of a portrait will be holding extra significance for Kristina and Adam. Haddie may be coming home again in the future, but it'll be a different Haddie, a Haddie that has become more of a woman than a girl through her education and time away from her family. This portrait will be the final glimpse they have of their family unit before Haddie becomes fully independent and takes another step toward adulthood.
While Adam has to say goodbye to his daughter, Julia will be saying hello to a new son in Victor, the child that she and Joel were granted through a last minute adoption hail mary. It'll take Victor, who came from a broken home, a while to adjust to the new surroundings, particularly the idea of having a sister and two very involved parents. Jabbar got his two parents back when Crosby and Jasmine were married, but now they have to figure out the schematics behind joint parenting within one household. In the premiere, they'll be dealing with the idea of religion, which will likely include an interlude from Jasmine's devout mother at some point.
Elsewhere on Parenthood, Amber gets a job at the Luncheonette following her political bubble bursting and Sarah finds herself working at a photography studio and dealing with a strict Braverman family rule that may leave Mark out of her picture. Can either of the two find a career that will last this season, or will they both continue to bounce along aimlessly?
The fourth season of Parenthood premieres tonight at 10:00 on NBC. To prepare yourself for the drama, tears, and family bonding ahead, check out sneak peeks for the episode here and here, as well as spoilers for the season here and here and the TVOvermind Parenthood discussion forum here.
How do you feel about "losing" Haddie once she leaves for Cornell? Do you think that Sarah can make the job at the photography studio stick? Will Crosby and Jasmine figure out a way to co-exist and co-parent now that they're married?