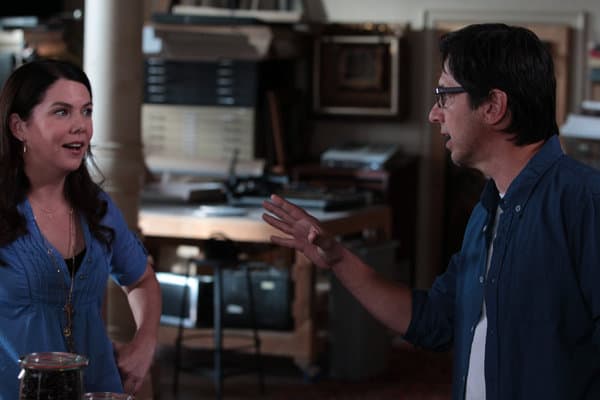 Heartbreak is something that Parenthood does very well. It may be the fact that the show has focused on fleshing out the characters and making us care for them, thus each sad moment hitting that much harder, but if you want to watch a poignant ending to any type of relationship, the Braverman family have you covered.
Tonight on Parenthood, heartbreak gets another go-around, as Drew is dumped by Amy and has to deal with the grief of losing his first love. Drew spent much of the first 2-2.5 seasons of Parenthood keeping to himself, trapped in his shell by shyness and his inability to open up to people. But once Amy came into the picture, he got a little more brave and a lot more confident, so he could very easily take a step back once she leaves him. Enter Hank. Having already had a moment with Max in the premiere, Hank will be talking to Drew about dating and giving him a male (non-Braverman) perspective on women and adulthood. Drew hasn't really had anybody like that in his life and if Hank can provide the stability that he needs, he might be able to grow from the experience.
Elsewhere on Parenthood, Kristina is thinking about getting a dog. With Haddie gone to college, the house has gotten quieter and feels much more empty, which would take a lot of getting used to for anybody. Rather than confront that feeling of loss, Kristina and Adam have decided to repopulate their house with another body, only this one has four legs. Eventually, they're going to have to deal with the fact that Haddie's gone, but for now, an animal could be a good thing for the kids and a nice mental distraction from Haddie's departure.
Also, Victor heads off to school, Crosby works on setting boundaries with Jasmine, and Kristina receives news that could potentially be devastating.
Parenthood airs tonight at 10:00 on NBC. You can check out another preview for the episode here, as well as the TVOvermind Parenthood discussion forum here.
Do you think that Adam and Kristina will get an animal to "replace" Haddie? Will Victor get more comfortable around Julia? How do you feel about Hank bonding with Drew over girl trouble?