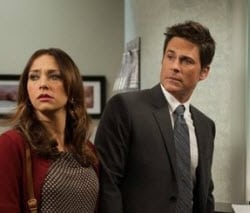 The rumors started by Buzzfeed's inside scoop are true, Chris Trager and Ann Perkins are leaving Parks and Recreation after the 13th episode of this upcoming new season. It's about midway through, and it seems incredibly likely this will be timed with their recent babymaking plotline that seems like it will end up having the two pair off in the end, and move out of Pawnee it seems.
Rashida Jones has been with the show since the beginning, and though Rob Lowe has only been around for a few years now, he's one of the better characters on the show. Executive producer Mike Schur released the following statement about their departure:
"The news about Rob and Rashida is true — they will be leaving the show after the 13th episode of the upcoming season six. We've been working on their storyline (on and off) for four seasons now, and heading into this year, with the two of them contemplating parenthood, it felt like a natural time to move them into the next phase.
We absolutely love both Rashida and Rob, and will be sad to see them go. Rashida was one of the very first people we knew we wanted in the cast, and as important as Ann is to Leslie (and vice-versa), she'll certainly never be far from Pawnee. Rob we initially thought we could only have for six or eight episodes, and we couldn't be happier that he will have stuck around for 75.
They are wonderful, funny, committed actors, they've been a huge part of the Parks and Rec family, and we think we have a great Pawnee send-off in the works for them."
I understand why this is happening. The truth is, as much as I love Rashida Jones ,her character has had nothing to do on Parks and Recreation for years now.The only time she was really relevant was when the whole Andy-April-Ann love triangle was going on, and since then? She's been sort of lost as a character.
The same goes for Lowe's Chris. After a string of bad breakups, he's had a running gag where he's super depressed in a very cheerful way. Only recently when Ann and him reunited have either of them been truly happy. I think a ride off into the sunset ending for the pair of them is perfect, as I'm just not sure what else there is for them to do on the show at this point. Still, they'll be missed.