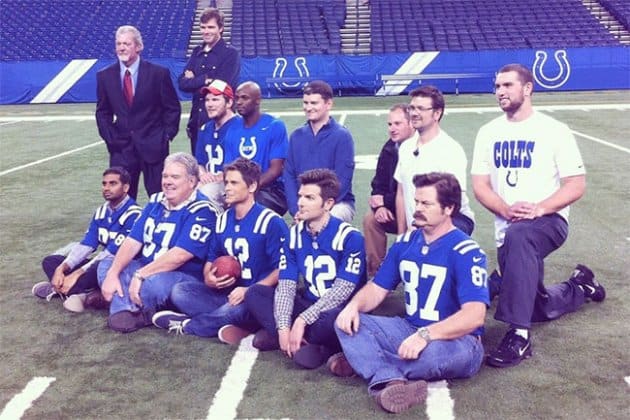 Above we have a tweeted picture to give us a hint at a future episode of Parks and Recreation. The show has been shooting a lot in Indianapolis recently, and the stopped by the Colts stadium to hang out with the players and likely shoot a few scenes.
From the show we know that Reggie Wayne is Andy's favorite player, and he's in the photo, but why is Andy wearing a Luck jersey instead? Blasphemy!
Word also has it that the show shot an impromptu scene with Newt Gingrinch when he was in the area. I don't think Leslie has a Biden-level crush on him, but we'll see.
Rob Lowe is a huge Colts fan in real life, so he must be pretty dang pumped to have this opportunity. Ron Swanson looks like he's not enjoying himself as per usual.