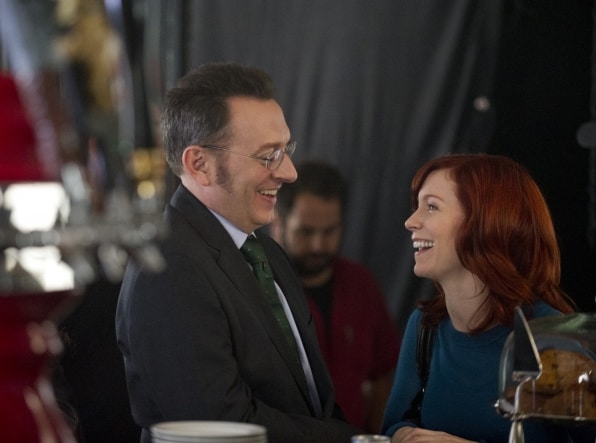 Love is in the air all around on Person of Interest tonight as Finch and Reese deal with both a husband and wife having their numbers called up by the Machine. We also get a bittersweet look at the courtship of Grace by Finch way back in 2006 before his life took such a dramatic turn.
First off it should be said that, even though Once Upon A Time gets more press for it, Person of Interest holds the best LOST reunions. In tonight's episode alone we had Jacob, Benjamin Linus's mother (Carrie Preston), and Goodwin of course. Not only that but Ben Linus himself, Michael Emerson, spent time with each of them so each pairing felt more organic to the story than it just being a stunt for LOST fans to drool over like it sometimes does on that other show. Plus there's hardly anyone better to have appear as Finch's lost love than Michael Emerson's real life wife. It brought this extra layer of charm to the flashbacks in this episode which mostly centered on seeing a much more open Harold Finch as he fell for Grace. The birthday scavenger hunt was incredibly thoughtful and unique, but at the same time there was this palpable feeling throughout that all this happiness is going to go away for poor Harold Finch by the time 2012 rolls around. Finch is still part of her life though even if she doesn't know it as we saw him viewing Grace from a far a couple times this episode.
The POI of the week was a duo, Sabrina and Daniel Drake, a pair of husband and wife publishing house founders that both wound up as targets before the middle of the episode. It turned out however that each had taken a hit out on their spouse as marital sniping took on a whole new meaning beyond constant belittling and bickering. Though there was plenty of that as well, and on all the usual topics that a couple on the rocks fights about: class differences, feeling emotionally distant, and work disagreements. He wants to sell their publishing company while there's an offer on the table and she refuses. So naturally she has to die and vice versa. Reese and Finch quickly grow tired of dealing with this mess as their antics in hiring hitmen to gun their significant other down has opened up the possibility of innocent bystanders getting hurt.
So Reese and Finch set about holding some fairly unconventional couple's counseling. Reese kidnaps both of the Drakes and forces them in the same room together so they can work out their problems, and so he can get both of their respective assassins in the same place at the same time. There aren't a lot of actors out there that can really sell the line, "I'm so sorry I tried to kill you, honey" like Mark Pellegrino can—the man is a consistent highlight on any show he appears on.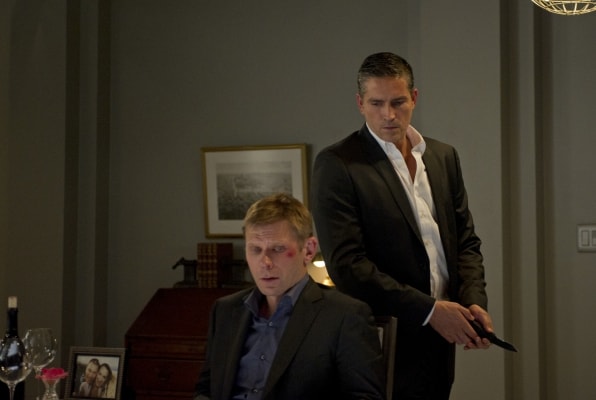 Once the hired killers on both sides are dealt with and the Drakes have reconciled when they realized just
where their problems began, (there was a personal tragedy and constant miscommunication afterward led to things spiraling out of control) things have wrapped up quite neatly for an episode of Person of Interest. It was nice to have a break from some of the ongoing storylines to just enjoy an entertaining POI of the week case with just a little bit of flashback thrown in for good measure in terms of really helping to shed some light on the kind of man Finch used to be before today. Having two persons of interest also gave the show a good reason to bring in the entire Machine team to handle the case.
Not only that, but both Detective Carter and Detective Fusco had some nice character moments as each pursued possible flirtations. Fusco went out on a date with a woman named Rhonda who seemed to be a good fit for him, even going so far as to go with him on his side trip for Reese to keep Sabrina Drake from being killed despite his getting the call to do so in the middle of said date. While Detective Carter seems to be interested in Detective Cal Beecher after he came into the picture to assist with taking down the ex-con former childhood friend that Daniel Drake hired as the hitman for his wife. Personally, I wonder how the shippers for Reese and Carter are going to take to this new guy coming in.