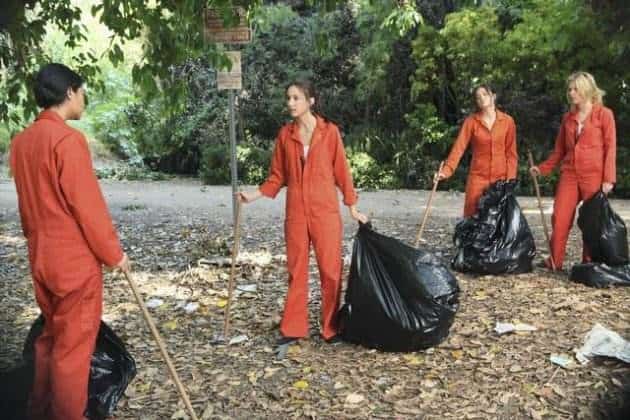 Pretty Little Liars will be returning to finish off its second season in a matter of weeks. The show is moving to Monday nights beginning on January 2 at 8:00 p.m. We've posted a few trailers for the return of Pretty Little Liars here and here and now ABC Family has put together a new trailer that reveals scenes beyond the January 2 return.
In the previous trailers, the big tagline was "someone will die, someone will be exposed and someone will go missing". The network is revealing even more hints about the rest of the season by warning us about three more things in this new trailer: "someone will go missing [still the same], someone will go to jail [new spoiler!] and 'A' will be revealed [crazy new spoiler!]". That's right, folks, Pretty Little Liars will be pulling back in the curtain and revealing who 'A' is in the season finale. Executive producer Marlene King confirmed to EW that the season finale will give us 'A"s identity as well as feature the arrest of someone for Alison's murder and result in the death of a character.
Pretty Little Liars has already been renewed for a third season, so we're sure that whatever is revealed in the season 2 finale will leave us on the edge of our seats until the show returns for season 3 (hopefully this summer).
In the meantime, enjoy the new trailer below and check out three sneak peeks from the January 2 return of Pretty Little Liars. Make sure to keep checking our season 2 spoiler page for the show. We'll keep it updated with new spoilers and links to trailers and sneak peeks.
Note: if you can't view the embedded video below, try watching it here.