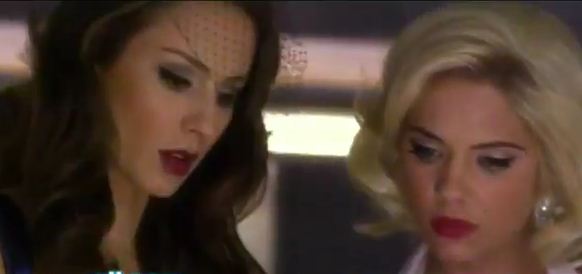 Pretty Little Liars is currently on hiatus, but the show left us with one heck of a midseason finale last night.  A member of the "A" team (and a betrayer of the girls) was revealed, as was Maya's killer (read our recap).
You can check online each week for another installment of ABC Family's new PLL webseries, "Pretty Dirty Secrets", which will be released each Tuesday from now until the special Halloween episode. In fact, the series centers around Rosewood's Halloween store and will lead up nicely to the special October episode.  You can watch the first episode here.
In the meantime, feast your eyes on the preview below for the Halloween special.  The girls attend a Halloween party on a speeding train….a party that we know members of the "A" team will be attending based on the final moments of last night's summer finale.  And, like last year's Halloween flashback episode, it looks like this year's episode will be spooktacular!
Don't miss the Halloween episode of Pretty Little Liars on Tuesday, October 23 at 8:00 p.m. ET/PT on ABC Family.