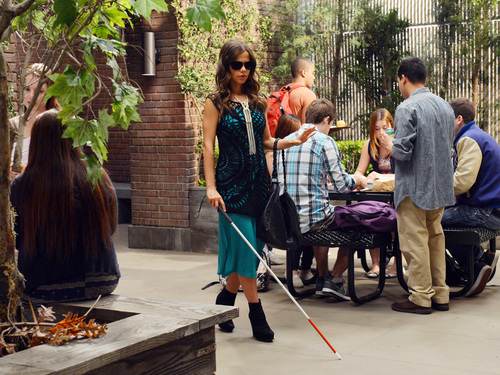 Pretty Little Liars gave us tons of moments that owned last night, but there was one thread that I can't put off any longer: Jenna is seriously slipping in her creeping, y'all.
The formerly blind puppeteer made her eagerly (or not?) reappearance last night and the Little Liars noticed something was a bit more off than usual with Jenna. Aria went as far as saying that Jenna was even "blinder" than she was last year due to Jenna overselling that she was still blind to her classmates. As the episode went on, though, Pretty Little Liars did something I didn't think they would do so early in the season: the Liars realized that Jenna's vision repair surgery worked!
The pieces started falling into place quickly for the girls and Toby, who discovered that Jenna was still using the medicine she was prescribed in the event that her surgery went well. Plus, Emily finally realized who was driving the car on the night she blacked out and it was none other than Ms. Jenna Cavanaugh herself. But Jenna's sloppiness didn't stop there, folks.
In the best scene of the night, the girls hid in a bathroom stall while Jenna came into the bathroom and spotted an earring stole from Alison's grave. The earring was meant to spook Aria, but I will get into that a bit later. The point is that Jenna clearly spotted the earring, which clued the girls in on Jenna's lie and gave Aria the chance to say the one of the best lines from the entire series, "I'm ready to hang a sign saying, 'She can see!'" If you did not laugh, no howled, after that awesomeness was uttered, then you have no sense of humor whatsoever.
For Jenna to all of a sudden be reckless seems like a bit of a stretch, but at the end of the day, this is Jenna we are talking about. She's always three steps ahead of everyone, so I'm sure that her sudden lapse in being able to manipulate people is all a part of some big scheme we have yet to see. At least I hope so.
Now that the girls know that not only Jenna can see, but that she was also the one who drove and left Emily at the graveyard, what do you think their next move will be?
Despite Jenna's carelessness tonight, there were other major developments, like Mona actually speaking, asking Hanna if she was receiving the texts again. Of course Hanna (and the viewers) didn't get anything else after that due to her time being up, but at least we've made some sort of improvement in that area. Although, Mona has sadly resorted to cutting herself, which is not becoming a once popular social queen.
Mrs. Hastings read Spencer the riot act for visiting Garrett behind her back, but later went and signed up to defend Garret to keep him from contacting Spencer. The setback to this was that Spencer's source has dried up due to Garret following Mrs. Hastings orders to not speak to anyone about anything. Burn!
Finally the New 'A' has officially surpassed Mona in terms of creep factor, because they have resorted to not only sending contents from Alison's grave to the Liars, but they are actually taking time out and making jewelry with them. A necklace made of Alison's teeth? 'Gross' doesn't even describe the sickening aspect of such a violation. As for the earring Aria received, it only gave Aria a reason to make a fool out of herself by exposing a long-buried secret that didn't need to be exhumed after all and further driving a divide between her and Bryon. The unburied lie might also give Byron incentive to resume a relationship with Meredith, who will no doubt make Aria's life a living hell if she is brought back into the Montgomerys' life.
What could happen next week on Pretty Little Liars now that Jenna is exposed and the New 'A' has brought enough black hoodies for an army of "A" disciples? Stay Tuned…
Browse and bookmark our Pretty Little Liars page for all news, review, spoilers, and sneak peeks for the show.
Photo Credit: ABC Family