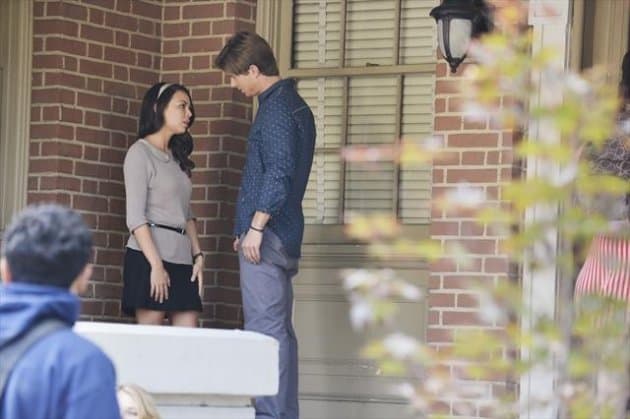 When Pretty Little Liars returns in early January, the show will pick up after the events of the Halloween episode, although, the episode doesn't address the startling discovery of Alison's body aboard the train.  However, there's so many other developments that you won't even miss that particular revelation.
The photos for the episode shed some light on a few of the things you'll see in "She's Better Now".  First, we know that Mona returns to Rosewood High and begs Hanna to act as her friend once again.  The former mental hospital patient is tormented by her fellow students and the girls in particular are distrusting of her.  'What if she's still "A"?', they're asking themselves, which is a legitimate question.  In particular, Spencer seems convinced that Mona will double-cross them again and isn't to be trusted.  Of course, Spencer has her own problems, namely the fact that her boyfriend is one of Mona's allies and we're the only ones who know, which makes everything Toby does in the episode seem particularly sinister.
You'll notice that there's a strange connection between Mona and Jason, which leads to one of a few surprises in the episode.  The episode also features a fire on the school grounds that does lead to someone getting hurt, but I won't spoil who.  Let's just say that the events that lead to the fire will have repercussions and leave you suspicious.  And, of course, the girls are tormented by "A" throughout.  It turns out that "A" even knows about Ezra's secret child and seems determined to expose Aria for keeping it a secret.
Watch a new preview below for the January 8th return of Pretty Little Liars on ABC Family.  You can also read additional teasers from the episode and view sneak peeks here.