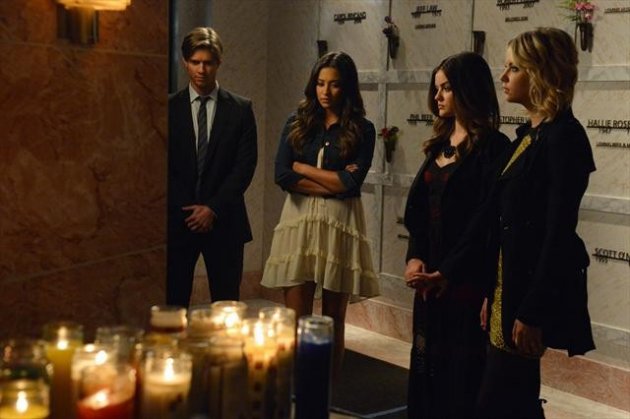 Anyone who may have doubted that it was Alison's body in the body bag discovered during the Halloween episode of Pretty Little Liars will soon have to accept the truth: she was uncovered that night.
Ali's remains have been returned to her family and the DiLaurentis family is set to bury her all over again.  Aria, Emily, Hanna and Spencer are also given another opportunity to say goodbye to their former friend.  But the girls are divided on whether to attend the memorial.  Aria, Hanna and Emily believe they should go to say goodbye to Alison and support Jason.  But Spencer is growing weary of everything that's happened lately (read more).  She realizes that Alison wasn't that good of a friend to them and doesn't want to pretend any longer.
Meanwhile, Dr. Sullivan makes a reappearance when Emily visits her to discuss her feelings about killing Nate.  But ABC Family warns that she "comes away with much more than expected".
Visit our Pretty Little Liars page for spoilers, sneak peeks and more!